When I reached Chiang Mai and checked into the hotel, the first question I asked at the reception, "Is there an Indian restaurant nearby?" The receptionist with a typical Thai smile, "Oh, there are so many, I can give you a list of at least dozen, but how about Thai Restaurant, get some taste of Thailand, you'll love it."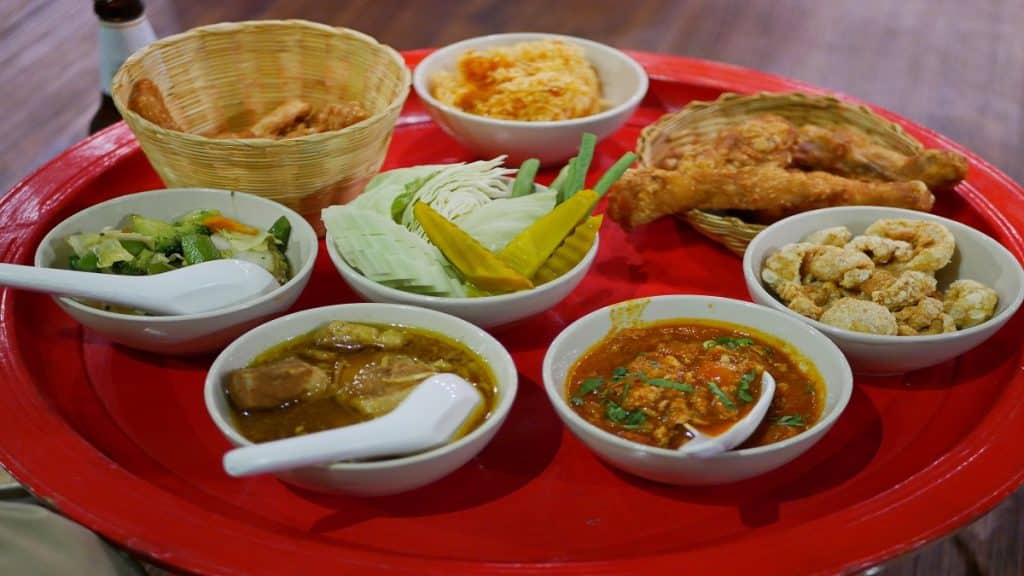 Now, wherever I go I explore the food of that region, whether it is on the street or a fine dining place, but occasionally I also drop in at Indian restaurant whenever I am longing for some home food.
There is no question that getting the taste of Thailand was high on priority. Getting to know the local cuisine is also one of the main reason why I travel.
Thai food is known all over the world for the diversity of ingredients, spiciness and medicinal properties. Most of the Thai dishes are cooked with at least two types of herbs which have some health benefits.
I started with Green Chicken Curry and rice and instantly took a liking to Thai food. I knew after my first meal that I am now embarking upon a Thai food adventure.
Thai food is eaten either as a single dish or with rice.
I literally went on eating binge and tried all kind of Thai food (except the insect snacks). I tried to enjoy as much Thai food as I could. Here I am dishing out the selected Thai dishes that you must not miss when in Thailand. So Ladies and Gentlemen please enjoy the Taste of Thailand and read till the end, there is a special dish waiting for you:
1. Kang Keaw Wan Kai (Green Chicken Curry)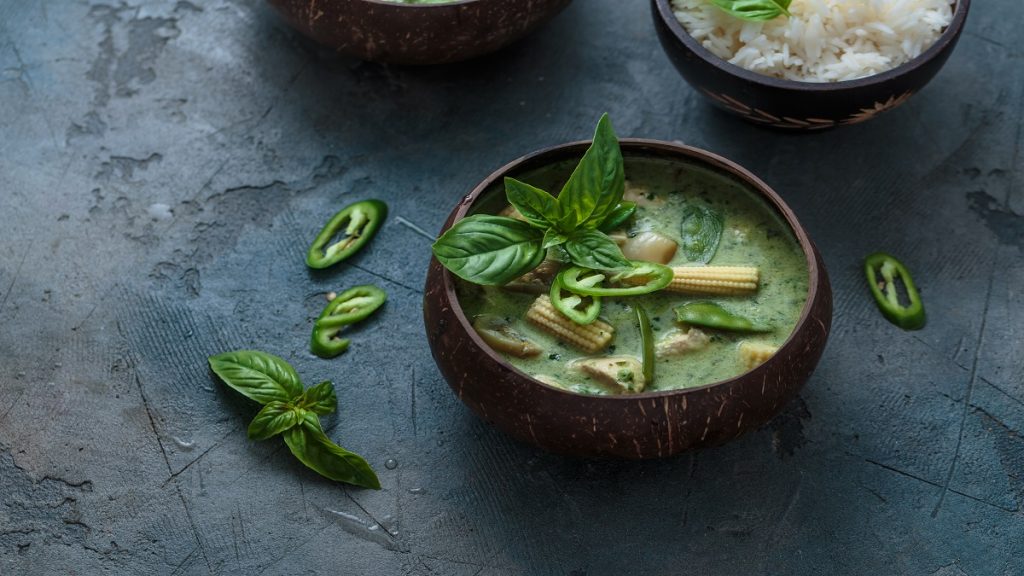 'Kai' means chicken in Thai. Chicken dishes are quite popular in Thai cuisine and is used in most curry and soup. It is little sweet, little spicy and tastes awesome. The spiciness and green colour comes from the green chilly paste, blandness from coconut milk, the sweetness of sugar and saltiness from fish sauce all contributes to making it a signature dish that it is. It is generally eaten with steamed rice.
2. Pad Thai (Fried Noodles)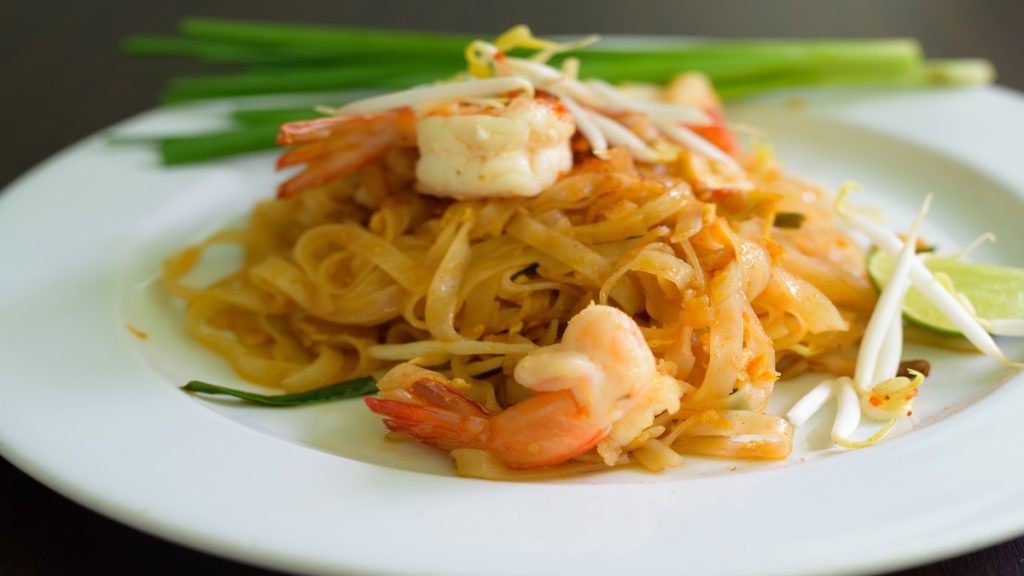 This quintessential Thai dish doesn't need any introduction. You can call it Thailand's national dish. Food lovers who visit Thailand have Pad Thai on top of their list. This dish though has many variations, but essentially it has evolved into two different styles: the classic and the variation. The classic Pad Thai is made of stir-fried noodles with eggs, shrimps, fish sauce, tamarind sauce, bean sprouts, tofu and garnished with crushed pea nuts. The other style is relatively dry and lightly flavoured one that you find the world over in Thai restaurants. For the classic one, we have to be in Thailand, the country of origin.
3. Tom Yam Goong (Spice Shrimp Soup)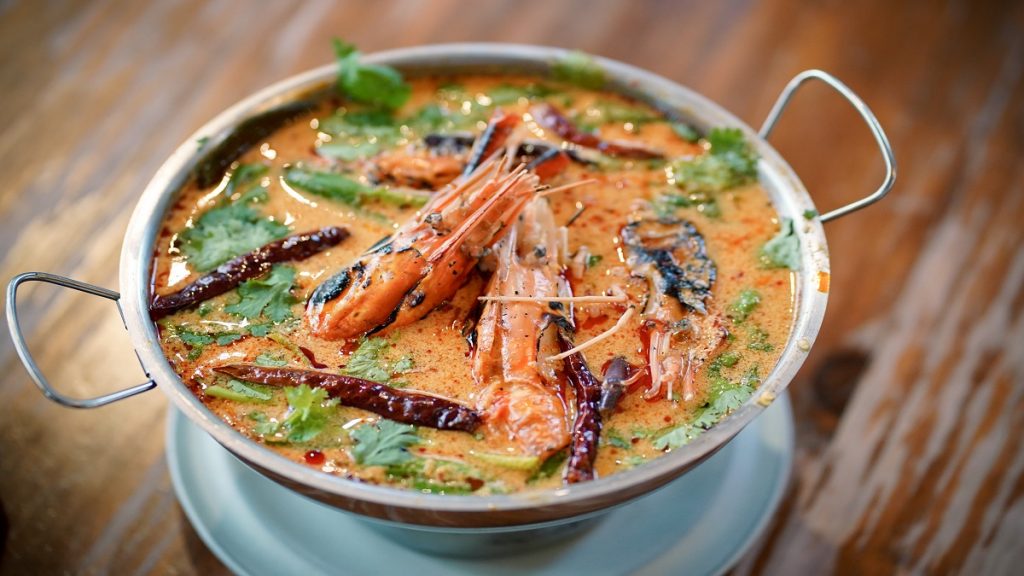 When I ordered this soup I was warned by the waitress that it is very spicy. In India, we are used to spicy food so I said, "No issue, I'm used to spicy food". The dish came with all its aroma and flavour that I could not stop myself attacking it as soon as it was placed in front of me. It was fiercely hot and spicy that it burnt the top of my mouth, all pours started sweating. I had to stop for a while and took some water. The waitress could sense my discomfiture and removed the dish. She explained that it is eaten this hot in Thailand but if I am not comfortable she can bring less spicy version. The less spicy version was just yummy. This is basically a hot and sour soup with a lot of herbs including galangal, lemon grass, lime leaves, shallot, tamarind and chilli pepper. It can be made with shrimps, chicken, fish, mix of seafood and mushroom. While ordering remember to mention that you want it less spicy.
4. Kai Pad Med Ma Muang (Stir-fried Chicken with Cashew Nuts)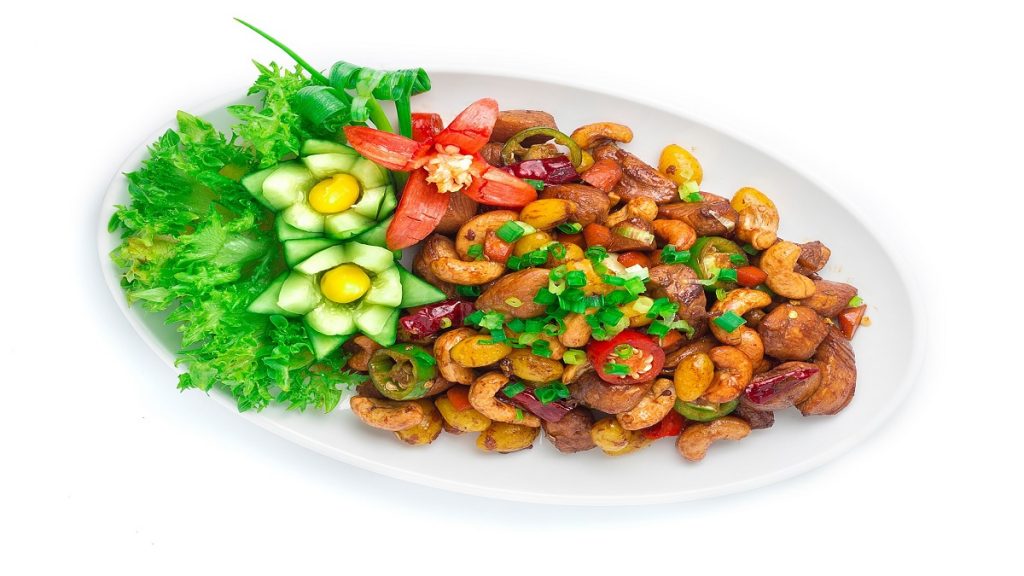 It is not spicy like most Thai dishes, but the sweet and salty chicken fried with crunchy cashew nuts. The dish is originally from China, Thais have changed the peanuts to cashew nuts. However, the dish is popular amongst the locals as well as the foreigners. I like the taste of cashews and hence this dish. I enjoyed this dish sometimes with ice tea and another time with cold beer. Three cheers to the clever soul who discovered this mix of chicken, cashew nuts and honey.
5. Por Pia Tord (Fried Spring Rolls)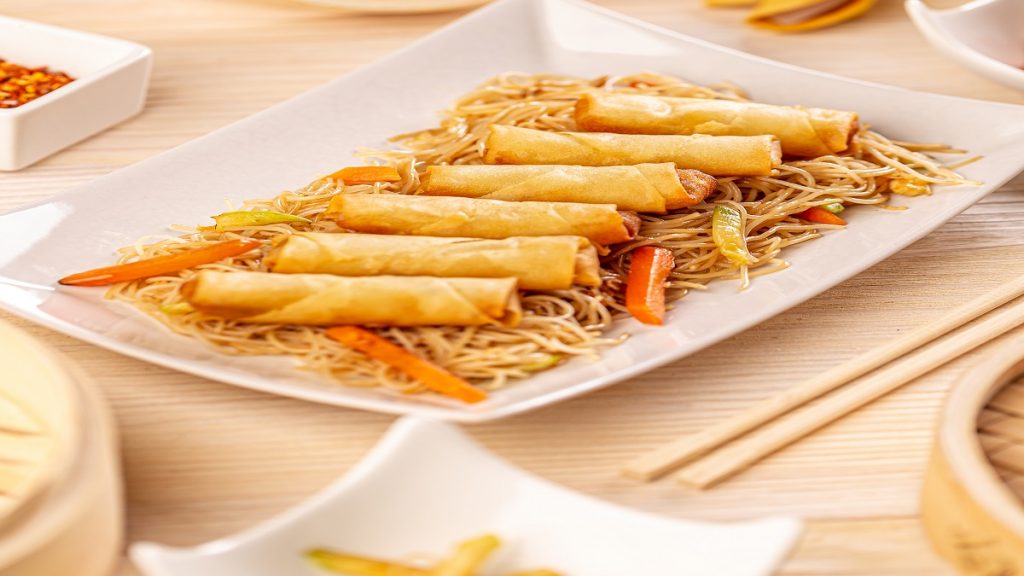 Spring rolls are crispy patties with fried vegetable fillings, that are popular appetizers among foreigners. The dish is not spicy and comes with sweet and sour dip.
6. Panaeng (Meat in spicy coconut cream)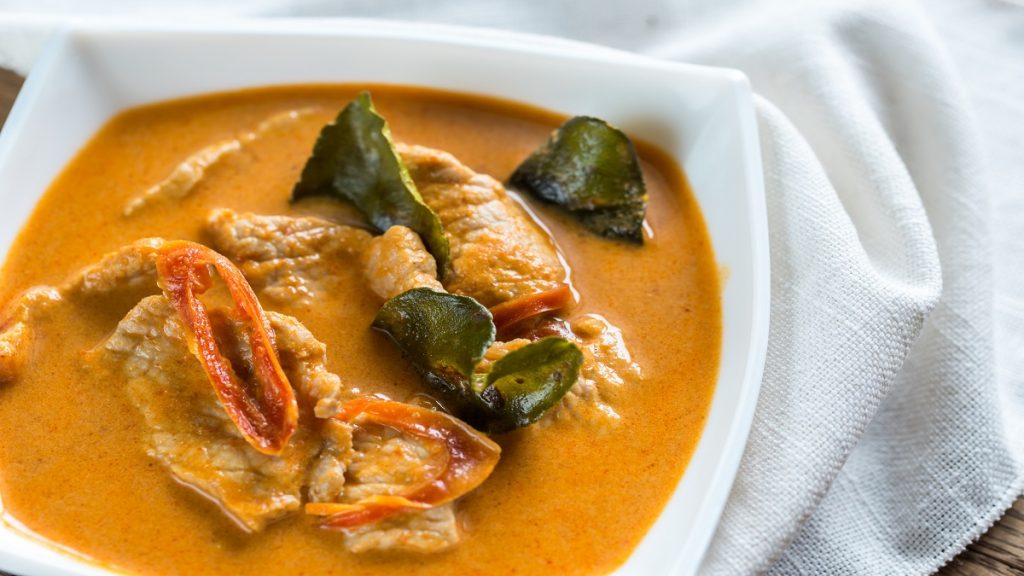 This is again a sweet and spicy dish and can be made with either pork, chicken, shrimp or beef. I like the shrimp version and also the chicken. Some people may find it little oily, but is again a very popular food among the tourists and locals alike.
7. Tom Yam Kai (Spicy Chicken Soup)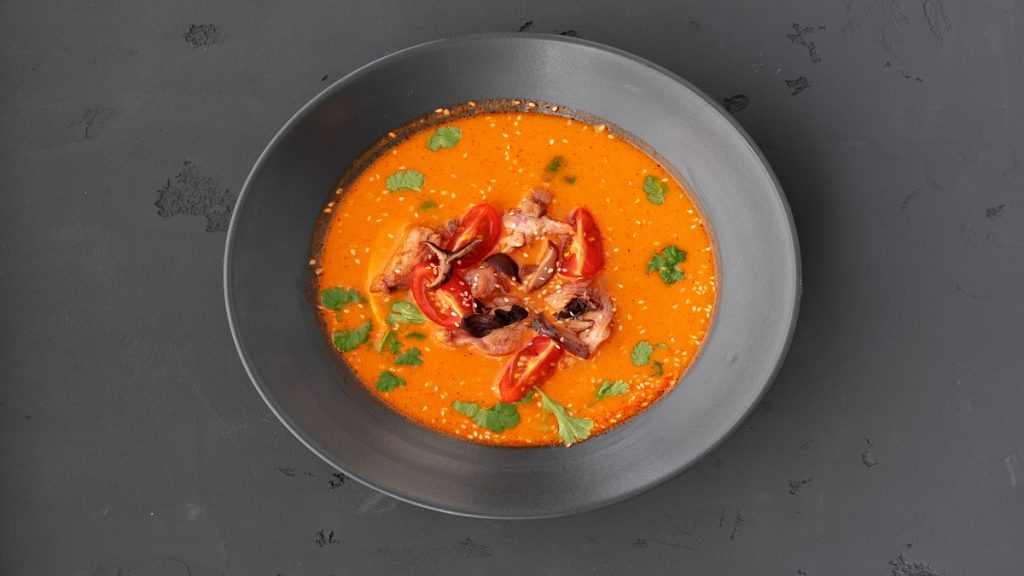 I fell in love with this soup right from the first sip. It's kind of hot and sour chicken clear soup seasoned with a bland of chilli, lime and fish sauce. Thai herbs such as lemon grass, shallot and galangal gives it a unique and satiating aroma. Don't miss it.
8. Tom Kha Kai (Chicken in Coconut Milk Soup)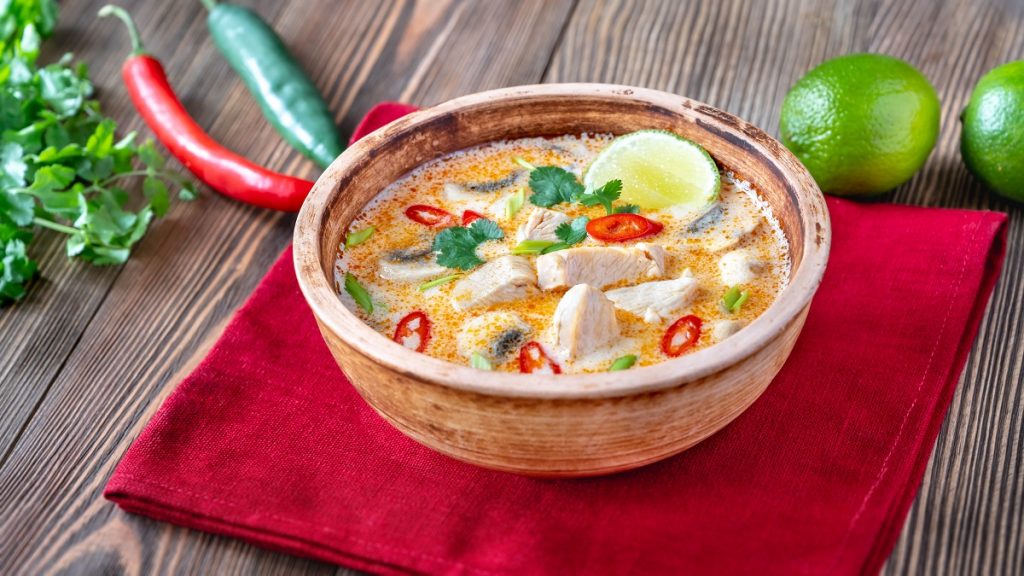 This soup is similar to Tom Yam Kai  with the special addition of coconut milk that makes it milder and less spicy. It is very popular amongst the foreigners, perhaps because of its less spicy taste. On a table filled with delectable Thai dishes, Tom Kha Kai stands out; your spoon will return to this bowl time and again.
9. Som Tam (Spicy Papaya Salad)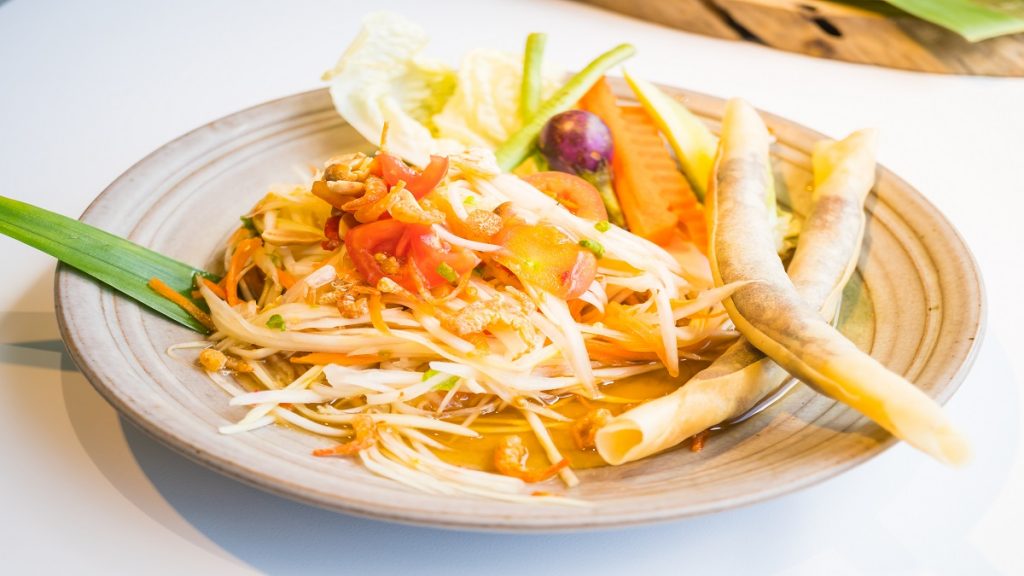 Som Tam, the spicy papaya salad, comes from north-east Thailand, but now is popular all over the country. Slight regional differences in ingredient mean variation in sweet and sour taste. Shredded green papaya is common to all recipes. Som Tam is usually served with grilled chicken and sticky rice. It's a low calorie, no fat and high vitamin food. Remember, locals like it very spicy so you need to tell your waiter, "No Spicy, please."
10. Mango Sticky Rice (Khao Neow Mamuang)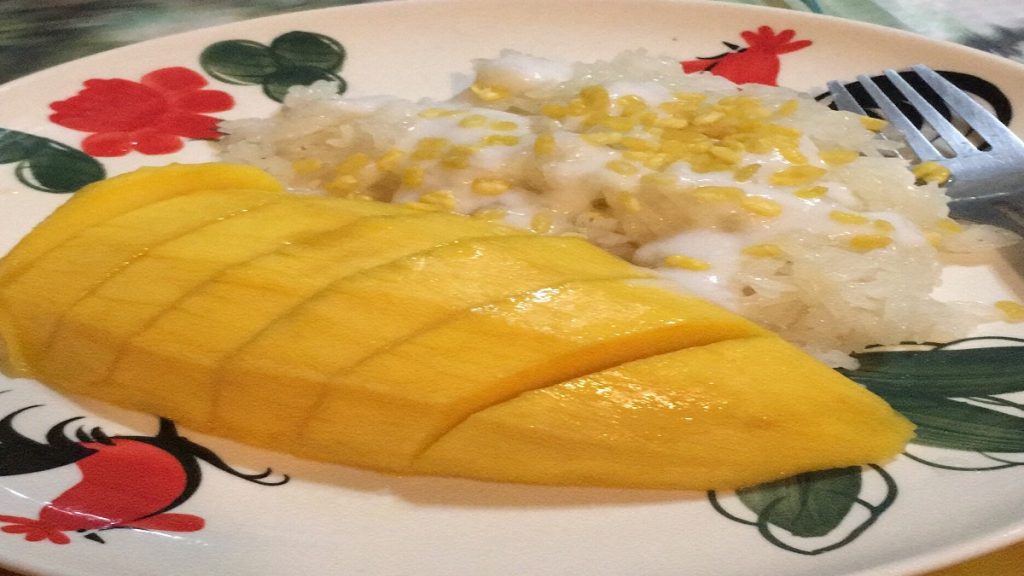 Sweet sticky rice and mango covered in coconut cream syrup, Khao Neow Mamuang is amongst the most popular Thai desserts. In the mango season, you'll find it all over the country.
11. Banana Pancake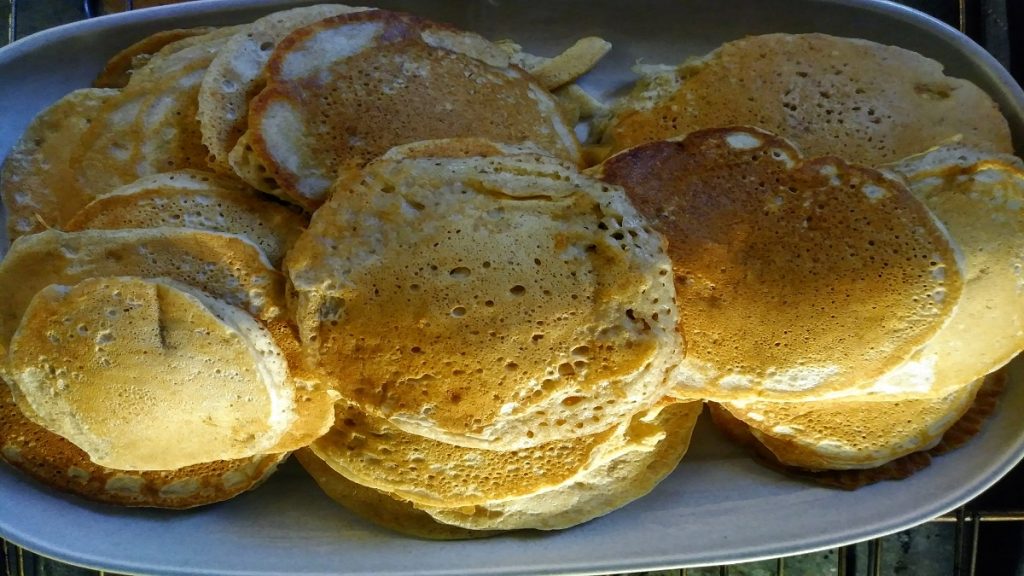 Thai banana pancake is a popular street food snack in Thailand and one of my favourites too. You will find many hawkers, especially in the evening, selling the banana pancakes. I'm not sure if it is a Thai food, nor I could get its Thai name, but popular sure it is. They are ridiculously sweet with condensed milk and banana. Sometimes they also garnish with chocolate sauce. If you know the Thai name for Banana Pancake, please mention in the comment section. 
Fried Insects – Taste of Thailand
And last, but not quite made to my favourite list : Fried Insects.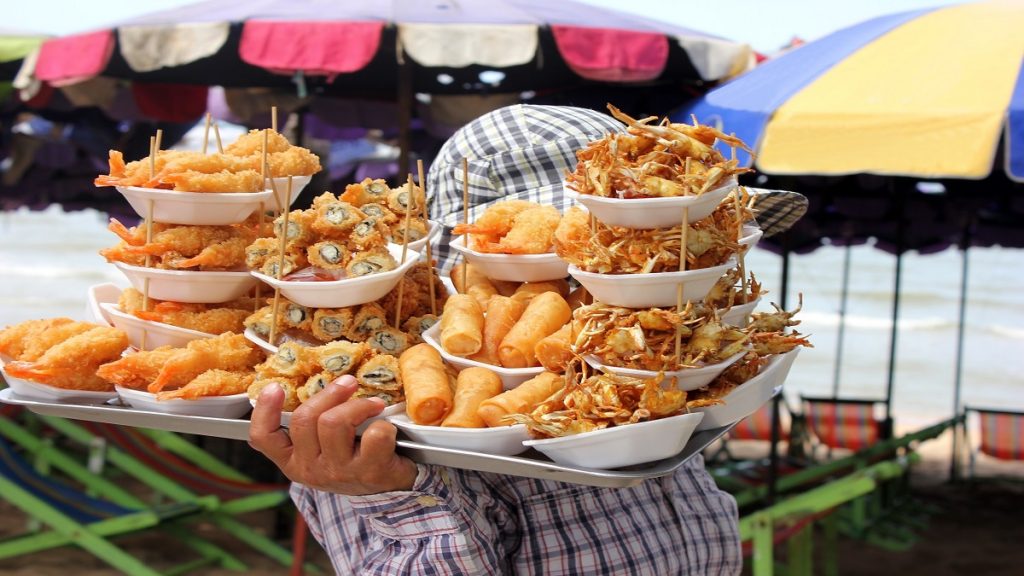 How can anyone eat insects be it crickets, cockroaches, worms, bugs, spiders, red ants or scorpions? They cannot be my favourite.
When you see a vendor selling these insects, you will also find curious onlookers around the cart. Some daring ones try an insect or two, the others only want to take photos. Some insect vendors have also started charging 10 baht for the right to take a picture, and why not, the poor chap is running a restaurant here and not some kind of Ripley-Believe-It-or-Not museum.
Are you brave enough to try fried insects in Thailand?
Ok, forget about insects.
Do you like Thai Food?
What are your favourite Thai dishes? What defines Taste of Thailand to you? Please feel free to write in the comment box.