Chiang Mai…..where Rock Climbing is a pleasure.
Mention Thailand to anyone and they will think of the emerald sea and white sand beaches. But there is more to Thailand than the southern beaches, much more. White Water Rafting, Kayaking, Zip Lining, Hot Air Balloon etc. Rock Climbing adventure in Thailand is one more reason for adventure junkies to head to Chiang Mai. Lots of climbers come to Chiang Mai for Rock Climbing.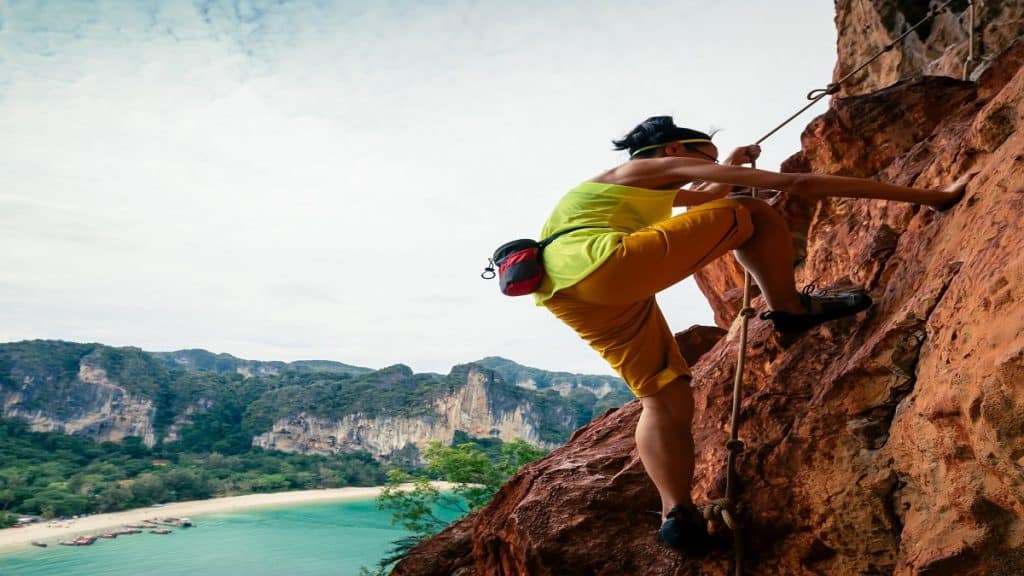 One of the best things about rock climbing is that it's sport for all ages, making it a lot of fun for even the youngest of your family. Take your siblings or kids out and they'll grow up with another reason to love the outdoors.
Anyone anywhere can become a rock climber, as long as you have a mountain or a boulder nearby, and a serious amount of upper body strength. While plenty of climbers stick to indoor gyms, the best looking rock climbing happens out in nature.
If you want to experience Rock Climbing Adventure in Thailand, head to Chiang Mai
Crazy Horse Buttress is a famous premier rock climbing and caving destination in Northern Thailand.
Let the Rock Climbing Adventure begin
A company called "Chiang Mai Rock Climbing Adventures (CMRCA)" is responsible for maintaining Crazy Horse Buttress and they organize daily climbing "expeditions". There are other agencies too, but I learnt that CMRCA are the best so I decided to stick with CMRCA.
Are you fit enough to attempt Rock Climbing?
To be frank with you, I had no prior experience of rock climbing. Hence, I was asking this question to myself. I was anxious and had too many questions. Basically, I wanted to ensure that I can do this activity with my current fitness levels and also that it is safe to do with CMRCA. A 15-20 mins. discussion, and seeing lot of experienced climbers collecting gears and getting ready for the day satisfied me and I was raring to go.
CMRCA will provide you with all the climbing gears you need. You need not carry anything with you.
Laura, from Alaska, was my climbing partner for the day, and like me she was also the first timer. Since both of us were novice we were clubbed together. The other groups formed were of experienced climbers. The two guides were allocated exclusively for our group.
The crag is about 40 km from Chiang Mai city. CMRCA have their own tuk tuks "Songthaew" for the transport. It will take you a little more than an hour to reach the place, and on the way you will collect your lunch boxes and drinking water (cost included in the package).
When you reach there you will be greeted with a very well maintained and professionally managed place. There was no big crowd that day but still 5 groups with 3-4 persons in each group.
The guide helped us with our climbing gears and then there was a short hike to reach the starting point.
At the base, guides will brief you about the rope safety, anchors, clipping, bolting, how to use the caving equipment and about the Calls. They were patient enough when I requested them to repeat the safety briefing. They could sense that I was little anxious, and they did their best to calm down my nerves.
Though there are many well developed climbing routes with varied difficulty levels, there are four routes marked for newbies.
If you opt for a two-day course, you can do 3-4 routes on day one and then again 3-4 routes next day with higher difficulty level.
While I was a bit anxious, Laura was a bundle of excitement. I could sense no nervousness in her. She had worked with USA Fire Department and is a trained firefighter and hence not supposed to get nervous with small adventures.
The first climb was very arduous for me and I took quite a while to reach the "summit" at 25 mtrs. All this while I got all possible encouragement from Laura and guides. They were so good with there encouragement that never once a thought of abandoning the climb crossed my mind. Or, may be, with Laura next to climb, I didn't want to look sheepish. So, abandoning was not the option. The only option was to capture the summit, which I did.
Crazy Horse Buttress Conquered
It took me about 35 mins. to reach to the top, and boy the view from the top was just fantastic. If not for anything else, the hard work was worth this view that I was treated with from the top.
The descent was not all that difficult, but I did bruise my knee in the excitement.
After me it was Laura's turn and she climbed as if she has been doing this for all her life. She reached the top in 30 mins.
We did one more path before breaking for the lunch and some much-needed rest required after the energy sapping physical activity.
Much needed rest and lunch
Lunch was a simple stuff of chicken and rice. The portion was little small and it was good that I carried some fruits with me.
Abseiling down the cave
After the lunch, it was time for abseiling down the caves.
Another hike of 10 mins. and we reached the mouth of the cave. The instructors took about 10 mins to set the rope. It was fascinating to see them going through the whole process in a very professional manner, and once again giving us the confidence that we are in the safe hands.
We were told that we will abseil 40 meters down the cave, but there is no need to be scared. Although we did encounter some spiders and bats on our way down which added to the excitement.
After abseiling, the guides offered us one more climb. I was totally exhausted by that time and decided to call off any more climbs for the day. Laura was keen to go for one more climb but then decided to conserve energy for the next day as she was scheduled for three more climbs with higher levels of difficulty.
Rock climbing is a very demanding sport…physically and mentally. It tests climber's strength, endurance, agility and balance along with mental control. But once you complete it, there is a great sense of achievement.
If you happen to visit Chiang Mai, keep one day for this activity. You'll love Rock Climbing Adventure in Thailand apart from the host of other activities that Thailand and in particular Chiang Mai has to offer.
If you have never climbed before, don't hesitate to sign with these guys. If you are an experienced climber, still sign up with these guys. I promise you won't regret. I am not doing any marketing for them here, just a token of appreciation for providing the fantastic experience.
Please do leave your comments in the Comment box at the bottom, it is always good to engage with the community.