Is there anything like Pattaya Secrets?
Pattaya has got a reputation, and because of that people either visits this place or completely avoid it. It's kinda self-fulfilling prophecy. You never know if it is okay for you unless you give it a try. Yes, there is nightlife, go-go clubs and bars, and these are not Pattaya secrets. But no one is forcing you to go to these dubious bars. Other than these go-go's what you will be seeing is people drinking in open air bars, which is hardly different to most places in Thailand.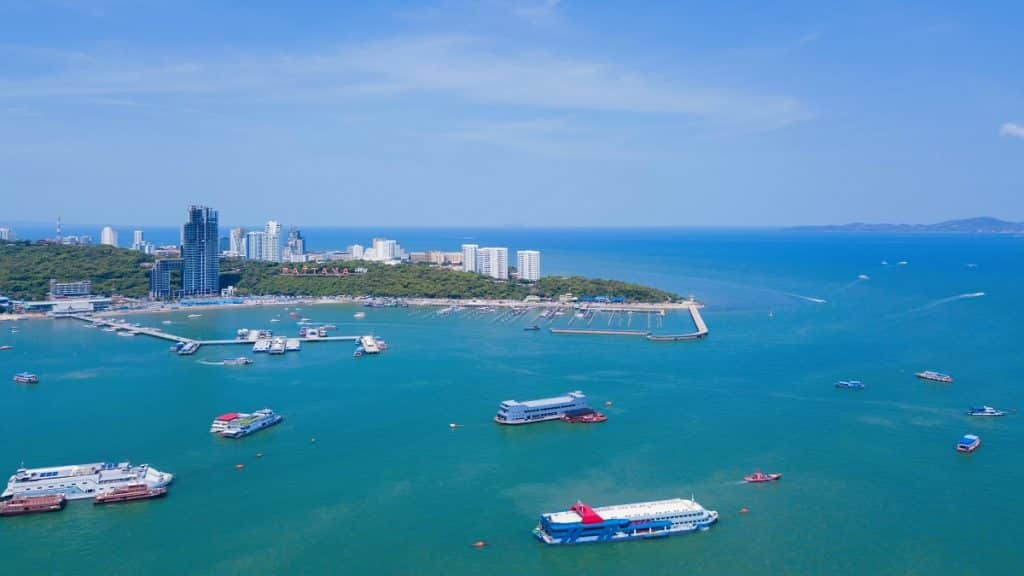 Every day you will find the hoard of tourists coming to the city, with families, with small kids and in groups. There are couples, solo woman and all women groups daily descending in Pattaya. Why do they all come to Pattaya? What is there to do in Pattaya? What are the Pattaya Secrets?
What is there to do in Pattaya? Oh, Really?
Let's check….
Sea Fishing
Coarse Fishing
Snorkelling
Scuba Diving
Jet Skiing
Para Sailing
Under Water Sea Walk
Sailing
Wind Surfing
Kite Boarding
Beaches
Beach Volleyball
Archery
Sky Diving
Paramotor
Bungy Jump
Zip Lining
Fly Boarding
Go Karting
Moto Cross
Mountain Biking
Trail Riding
Fly Microlight
Cable Ski
Kayaking
Horse Riding
Rocket Ball Ride
Golf
Tennis
Bowling
Pool
Snooker
Football
Basket Ball
Squash
Learn Mua Thai
Watch Mua Thai
Gym
Paint Ball
Quad Bikes
Indoor Sky Dive
Water Park
Cinema
3D-Cinema
Kid's Arcades
Zoo
Elephant Ride
Snake Show
Cabaret Show
Dolphin Show
Crocodile Show
Tiger Show
Elephant Show
Massage
Sauna
Did you notice, that in the above list, not even once I have mentioned the words like bars, go-go bars, beer and walking street.
For that matter, I have also not mentioned about the festivals and events like Songkran, fireworks festival, Loy Krathong, Bed Race, Drift Racing, Buffalo Racing, Long Boat Racing and Music Festival.
If you want to enjoy the festivals and events you may like to plan your visit around them. Songkran falls in April while Loy Krathong happens in November. Buffalo racing events are generally are organised in the month of August while long boat races are in November. The actual dates keep changing, hence it is necessary to check the dates before you finalise your itinerary.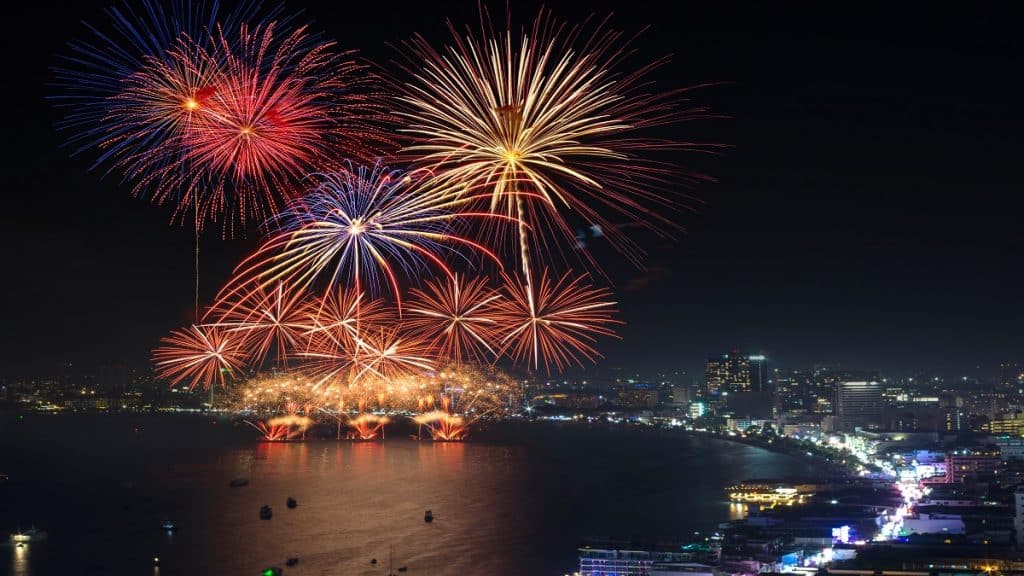 Are you still looking for more fun things to do in Pattaya? Ok, let me walk you through the popular tourist attractions.
1. Popular Religious Places
Big Buddha Hill – Khao Phra Tamnak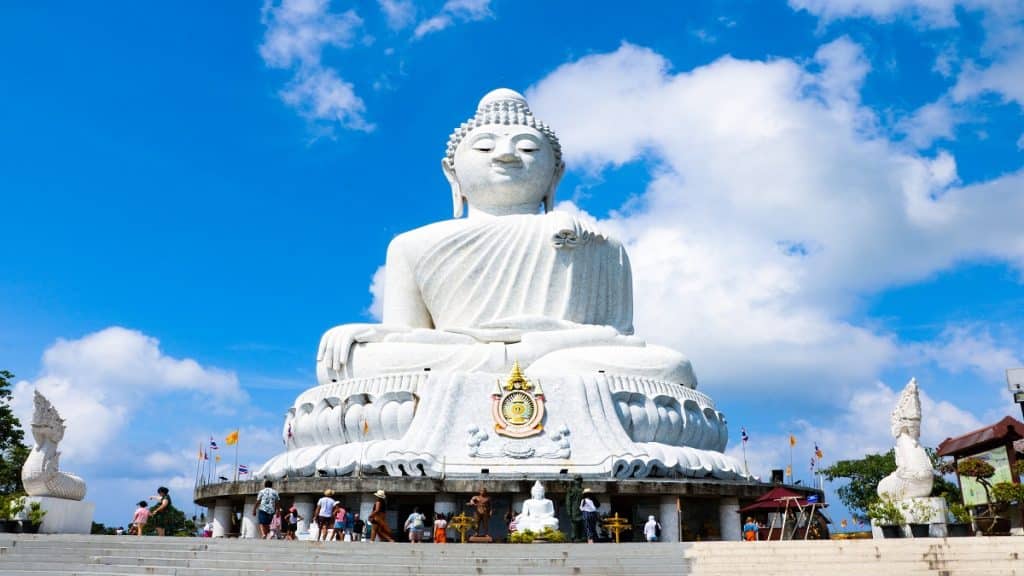 Thailand is famous for its temples and everywhere you will find some famous temple or the other. It is no different in Pattaya also has its fair share of temples or other Buddha places. I started with Khao Phra Tamnak, more popular as Big Buddha Hill. At the top of the hill, you are at one of the highest points in Pattaya and can treat yourself to a breathtaking panoramic view of Pattaya. Here at the top of the hill is the biggest statue of Buddha painted in gold, providing a peaceful and humbling atmosphere when watched from up close. The main statue of Buddha is surrounded with many smaller statues of Buddha in different poses. A taxi or tuk-tuk can take you to the top of the hill and then you will have to climb few stairs to reach the top most point. There is no entry fee here.
The Sanctuary of Truth: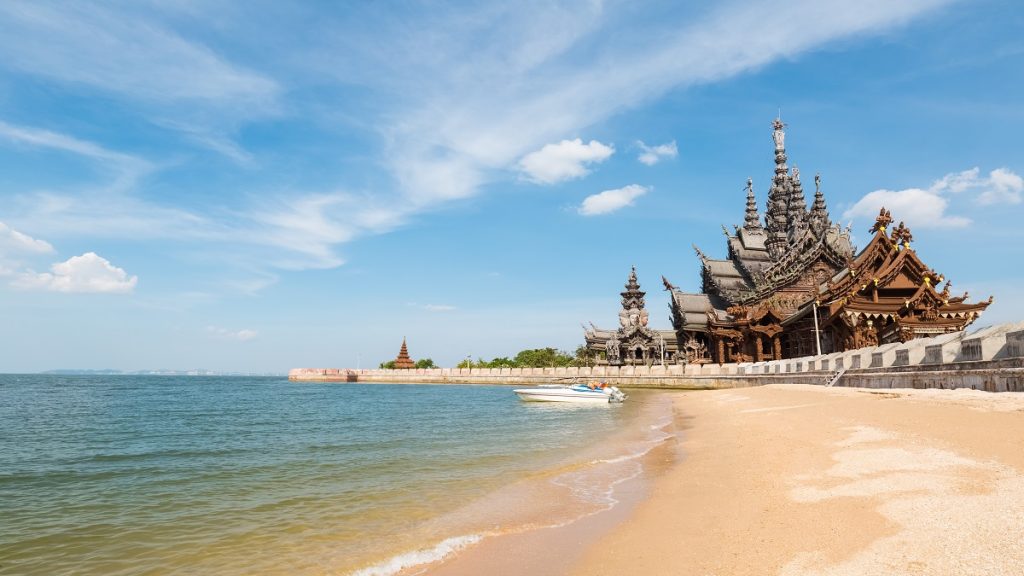 The Sanctuary Truth is located on the north of Pattaya. The Sanctuary of Truth can be described as part temple and part art installation and culture monument. It is made entirely of wood, even the nails are not metallic, has four wings dedicated to Thai, Indian, Khmer and Chinese mythology and religious iconography. The floor, the roof, the walls every inch is covered with wood. A taxi, tuk-tuk or motorcycle taxi can take you to this place. For some reason, this magnificent piece of architecture is not promoted aggressively but if you have a liking towards art and architecture then this is a place to go.
The entrance ticket for this place is 500 TBH. If you hire a tuk-tuk, they will charge you 300 TBH for two ways. Or you can also hop into one of the tuk-tuk going that way from Dolphin square and pay the standard price 10 TBH.
Buddha Mountain: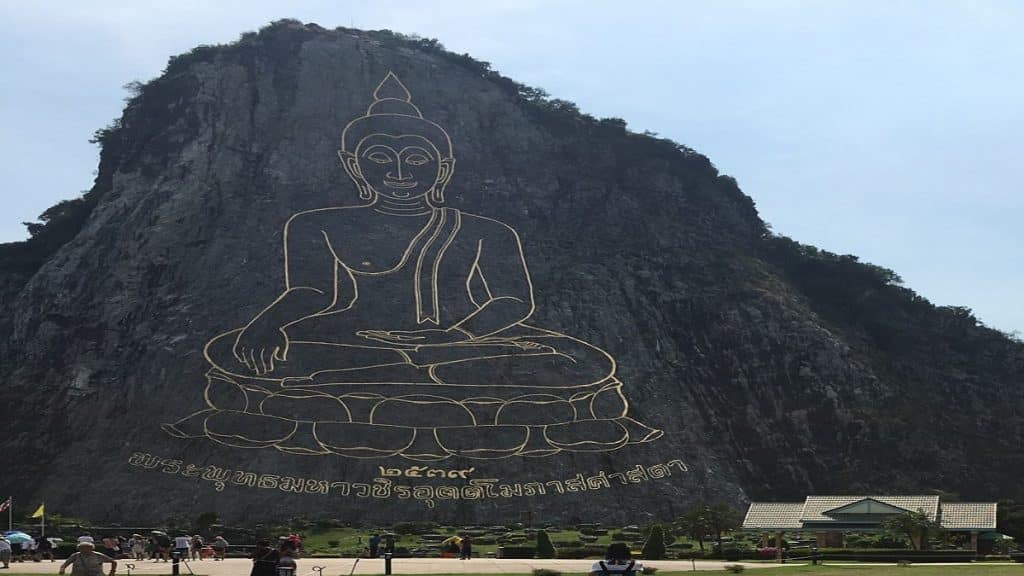 Buddha Mountain, also known as Khao Chi Chan or Laser Buddha was opened in 1996 to commemorate the completion of golden jubilee (50 years) of present King's accession to the throne. It is 15 km to the south of Pattaya city. You can reach there by taxi or tuk-tuk or if you are going to Noong Nooch, you can stop by on the way. Though there is no information available there about how Buddha image was carved out, my taxi driver told me that Laser rays were used to make the template and then manually by chisel and hammer Buddha image was carved out on the mountain face and finally marked out in gold colour. No entry fees here.
2. Museums
Ripley's Believe It or Not :
"Ripley's Believe It or Not" is a multiple attraction place located on the top floor of Royal Garden Plaza shopping complex. There are total of seven activities here a) Ripley's Believe it or not Museum, b) Haunted House, c) Tussaud's Wax Work, d) 12 D Moving Theatre, e) Infinity Maze, f) Scream in the Dark, and g) The Vault. The tickets are very pricey ranging from 250 TBH to 500 TBH for each activity. There is always a promotion running if you want to buy a package of more than one activity. If you want to buy a package of three activities the total cost per ticket is 1000 TBH and 1500 TBH for all seven activities. I talked to a travel agent near my hotel and he got me a three activity package in 600 TBH. I opted for Believe it or not Museum, Waxworks and 12 D Movie.
"Believe it or not" museum contains the collection of odd objects which are strange, shocking and beautiful. Most of the exhibits focus on things you least expect to see, like a three-legged horse, shrunken human head, a mask made of human skin, model of ship made of 1 million match sticks etc.
In the Wax-Work, you can get up close with Gandhi, Dalai Lama, Tom Cruise or Brad Pitt.
Art in Paradise: 3D-Art Museum :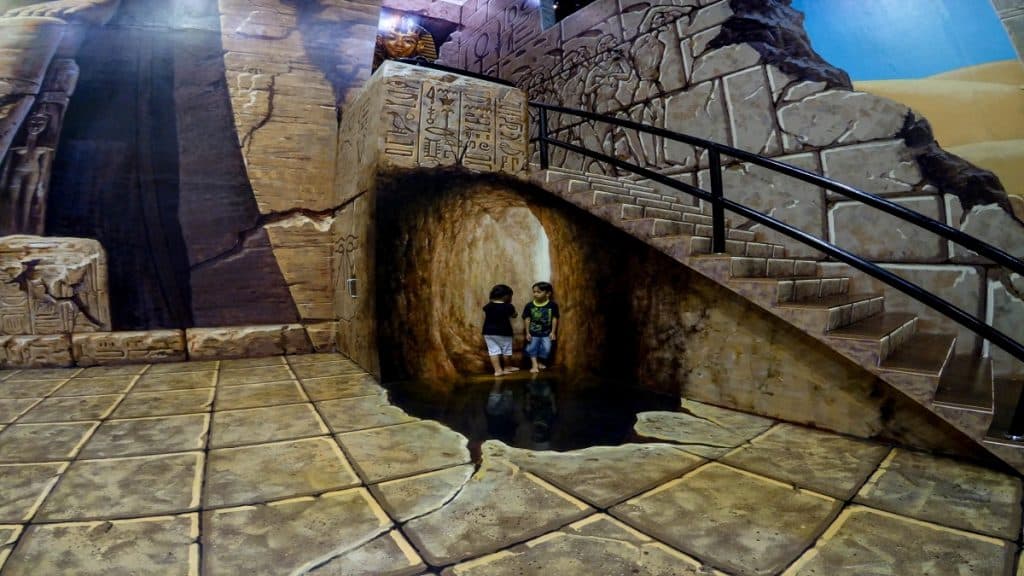 This is not your traditional art gallery where taking pictures is frowned upon, on the contrary here you are encouraged to take pictures and, in fact, you are completing the painting by being a part of it. Stand in the right position, then take a picture from the right angle from the positions already marked for you and suddenly you find yourself hanging by a log with water from waterfall flowing underneath, flying on a magic carpet, giving finishing touches to the masterpiece, crossing a dangerously dilapidated wood planks bridge etc.
The tickets are priced at 600 TBH for adult and 400 TBH for children.
3. Cabaret Show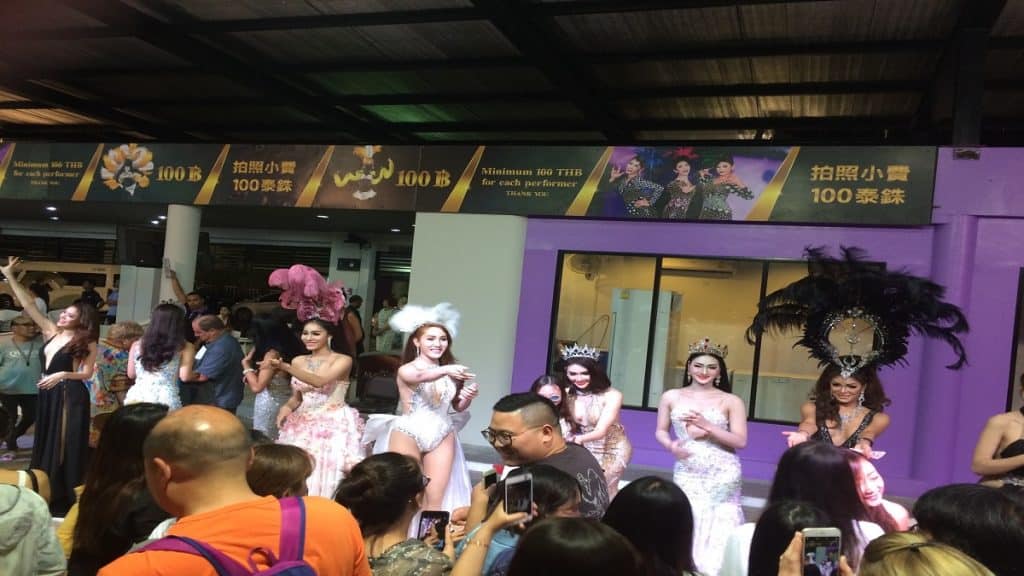 These ladyboy shows are big attractions in Pattaya. Tiffany or Alcazar? After talking to quite a few locals, I could not make out which one is better. I just decided to go to Alcazar. I was also told that if I buy a ticket from some travel agent, and without pick-up and drop-off facility, the ticket will be much cheaper. And cheaper it was, I could get a standard ticket in 350 TBH which generally cost 600 TBH. I reached Alcazar at 18:20. There are three shows every day, the first one starting at 18:30 and the last one at 21:30. The show is about 80 mins. duration. The ladyboys put up an amazing show with extravagant costumes, stunningly beautiful performers (ladyboys) & spectacular stage sets. There was a surprise in store for me when they danced to a Hindi movie number. In fact, apart from Thai songs they also perform to Persian, Arabic, Japanese, Chinese and Hindi songs. It is a non-stop fantastic entertainment. Whether you go there for ladyboys or for the show, you'll get your money's worth. When I was coming out I was wondering if the man is the most beautiful woman on the earth.
The show is fine for all ages and is a family attraction. In the end, you can take photographs with performers, but it comes at a price 40 TBH per photograph.
4. Koh Larn Island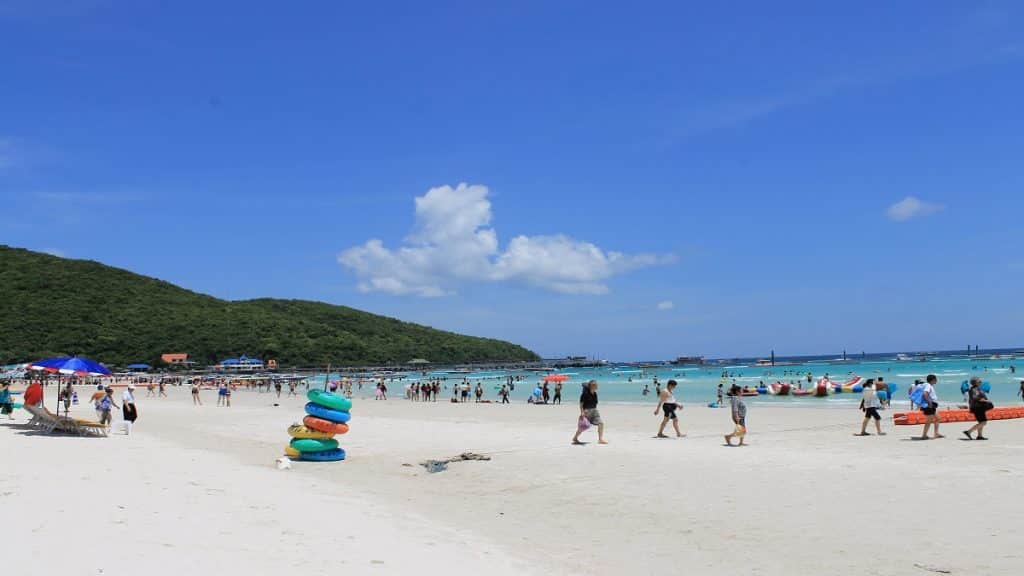 Though Pattaya is famous as beach resort but the main Pattaya beach has hardly anything to write about as far as the beach is concerned. You may like to lounge there, take a sunbath, enjoy the people passing by, but would not like to enter the water which is dirty by any standard and the sand is hard.
But then you can rent a boat and go to Koh Larn island and you will come across some jaw dropping beautiful beaches. Water is crystal clear and sand is soft and white. I made a booking with one of the tour operators on the beach road. There were twelve people in total from different nationalities.
The speed boat left Pattaya beach at 9:00 am. In the midway, they dropped anchor and we were given the fishing rods. After fishing for 30 minutes, the boat again headed towards Koh Larn.
In Koh Larn, you can do sunbathing, swim in the ocean, go for snorkelling, go jet skiing, the kids can enjoy banana boat before breaking for seafood lunch and some drinks.
On the way back they will again stop the boat and you can enjoy the activities like parasailing and underwater sea walk. The day will be over at around 4:30 PM. The whole day activity, including all the activities on the way, costs about 1800 TBH. If you are not interested in activities like parasailing and underwater sea walk, you can take a ferry from Bali Hie Pier that costs only 30 THB one way and takes about 45 mins. to reach Koh Larn.
5. Underwater World
Underwater world Pattaya is a huge aquarium with 100 meters tunnel. The aquarium is home to about 5000 fish of around 500 different species. Apart from such aquariums you cannot see such diverse marine life anywhere else. You will see the nurse sharks, leopard sharks, eagle rays, giant groupers and turtles, to name the few.
If you are the adventurous kind you can go for aquarium diving and get a chance to get up close to these beautiful marine creatures. You may have done scuba diving in the ocean many times, but I am sure you would not have come across such diverse marine life at one location.
6. Shopping
When it comes to shopping there are no Pattaya secrets. Pattaya is not lacking in the places to shop. There are malls, markets, shops and bazaars. The high-end shopping malls include Central Festival Pattaya Beach, Royal Garden Plaza and Mike Shopping Centre.
Central Festival Pattaya: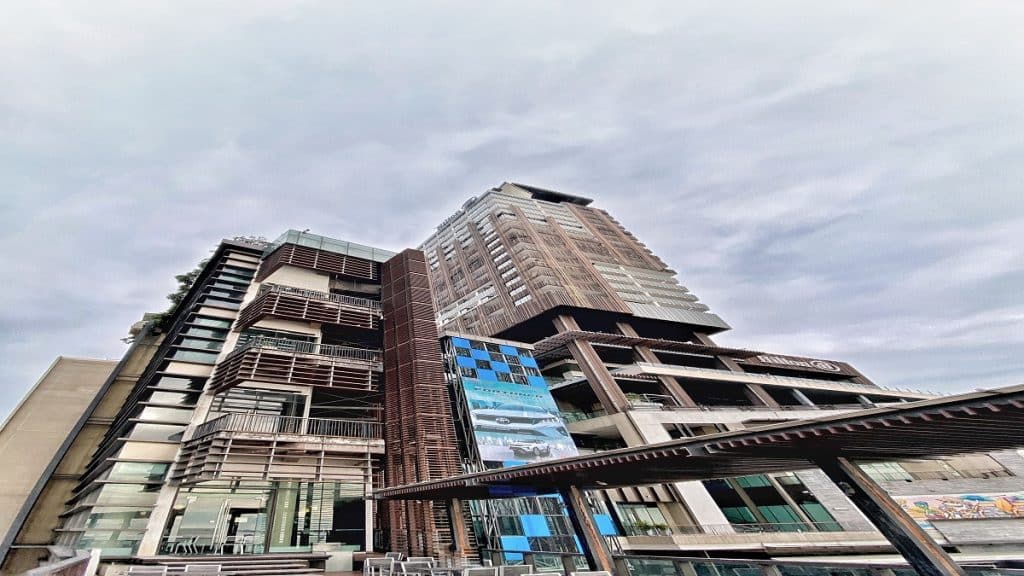 Central Festival Pattaya dominates all shopping malls with high street fashion brands such as H&H, Mark & Spencer, Calvin Klein, Zara and Nautica. There is an impressive food court in the basement serving Thai, European, Chinese, Indian, Japanese, Korean and Arab cuisine. For your gadgets and other electronic requirements, there are stores of Apple, Samsung, PowerBuy, Sony, Canon, Nikon etc. With the cinema complex and bowling alley, it finds the top place in the entertainment hotspots of the city.
Royal Garden Plaza:
Royal Garden Plaza comes a close second. Here also you will find an array of high street brands, Levi's, Camel Active, Espirit, GAP etc. The top floor has an impressive food court, Feed Wave, serving cuisines from the world over. Yu can wine and dine in the balcony with amazing sea view. You also have the everyday favourites such as Berger King, KFC, Pizza Company, Sizzler and Coffee Club. Then you have Ripley's Believe It or Not and Louis Tussaud to complete the entertainment part.
Mike Shopping Mall:
Mike Shopping Mall was previously known for vendors selling unbranded and copied clothing, but recently it has undergone a sea change, and now you can find the top brands of clothing and footwear. The vendors selling the unbranded things are still there and doing roaring business every day. In fact, most people flock this mall for unbranded stuff only.
Central Centre Pattaya: Big C:
Central Centre Pattaya is another shopping mall and is more famous for the big supermarket called Big C, which also give its more popular name Big C Shopping Mall. Apart from the supermarket you will find a number of shops selling branded clothing, electronics and footwear, the stalls selling jewellery, souvenirs, luggage etc. There is a five-screen cinema complex and many local and international food outlets.
Pattaya Floating Market: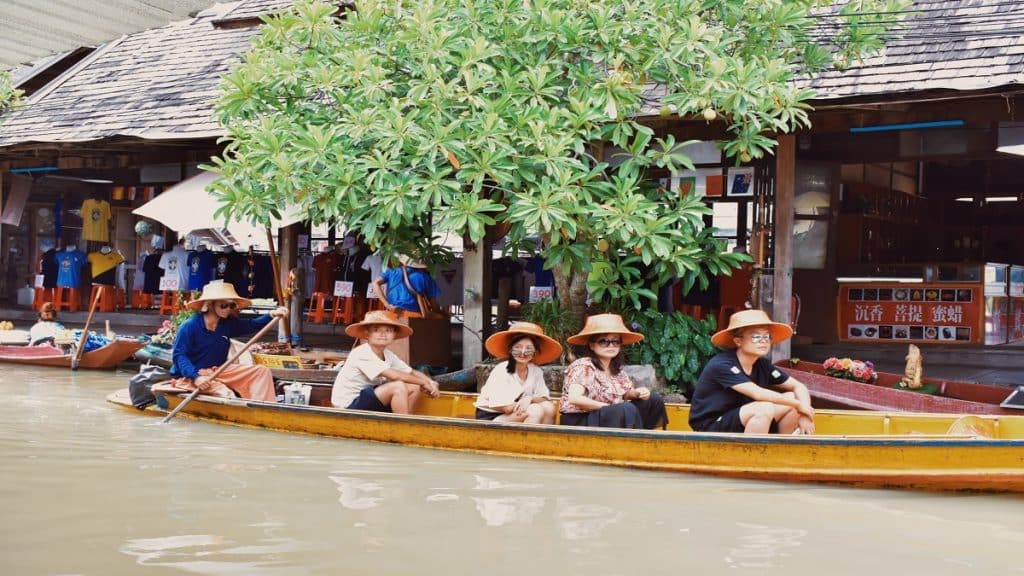 Bored with the shopping malls, go to Pattaya Floating Market. There are more than hundred stilted wooden shops selling various stuff from all over Thailand. Authentic Thai food can be had from a number of food stalls. There are food vendors navigating the waterways selling fruits and snacks. This is one of the major tourist destination in Pattaya.
7. Khao Kheow Open Zoo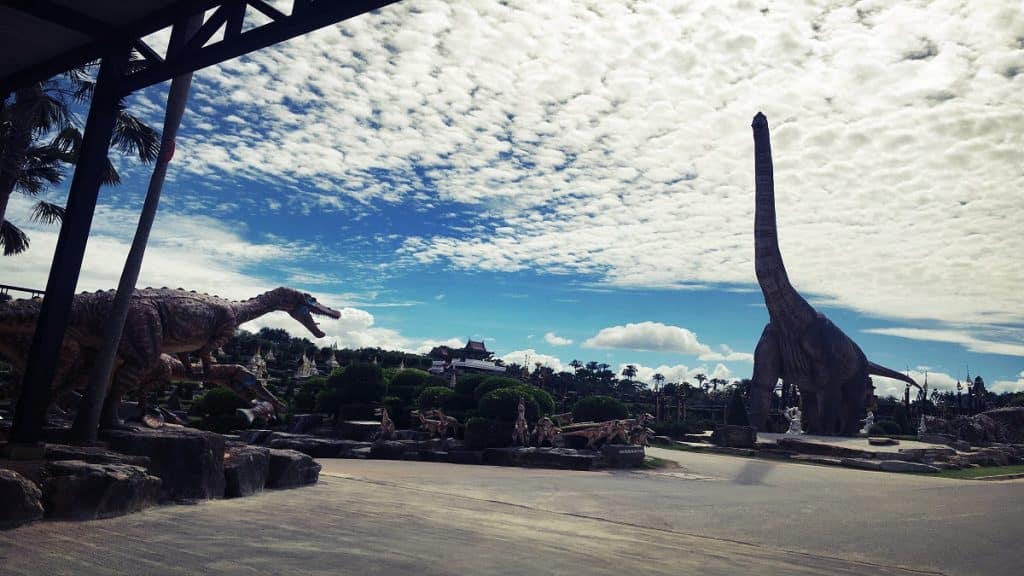 Khao Kheow is an open zoo where animals are not confined to small cages, the animals are provided with a vast expanse of space to roam around get a feeling of the natural environment. Here you can feed giraffe, rhino, hippo and flamingo.
The kids get to enjoy as well as learn about the animals and why they are important to us. Why just kids, even the adults were enjoying this place. The place is large, so either bring your car/taxi in or take a golf cart.
The Flight of Gibbon is also located in the premises of this zoo. If you are adventurous, why not go for some adrenaline rush.
8. Gardens & Parks
Nong Nooch Tropical Garden: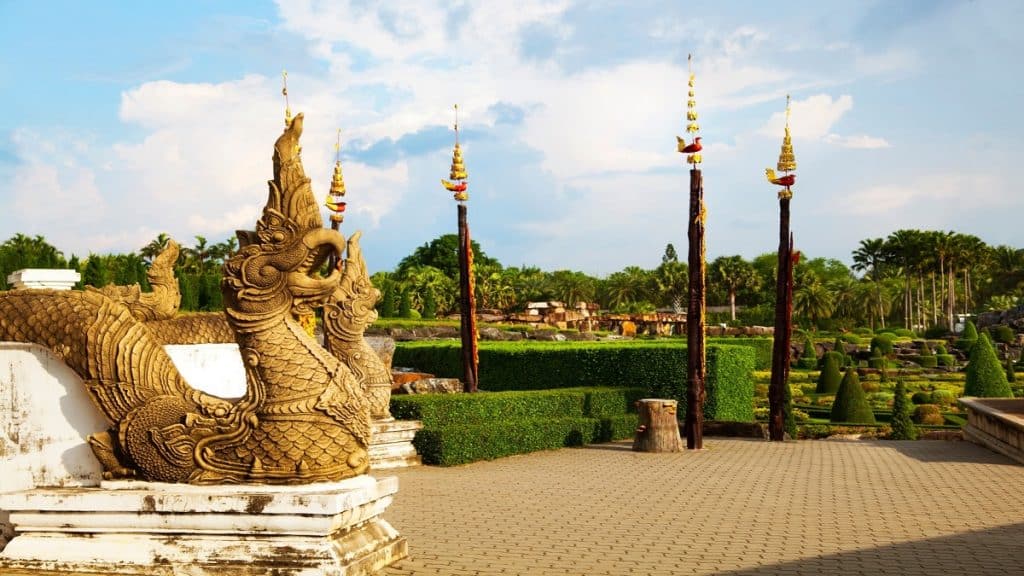 Nong Nooch Garden is one of the most popular attractions in Pattaya. With vast and beautifully landscaped park spread in 500 acres area, it attracts more than 2000 visitors every day. But, can a botanical garden attracts so many tourists on a daily basis? I'm afraid not, so there are other crowds pulling attractions thrown in, elephant show, elephant ride, photo with the tiger, feed bananas to the elephant, Thai cultural shows etc. Anyway, the garden is pretty and worth a visit. If you have kids coming along with you, they will like the animals part.
Mini Siam: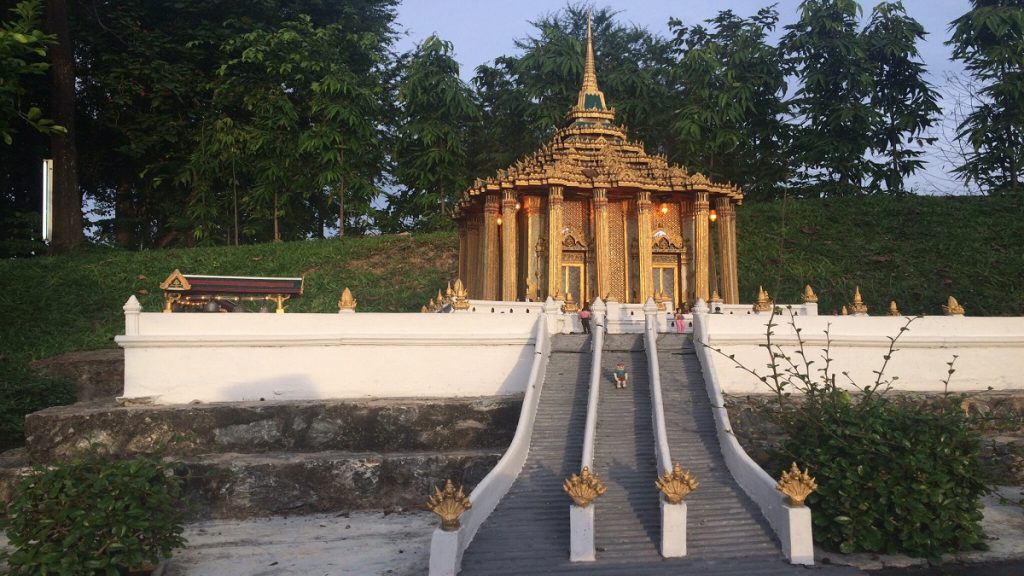 Mini Siam is a famous miniature park attraction in Pattaya. At Mini Siam you can see the miniatures of world famous monuments such as Eiffel Tower, The Statue of Liberty, London Bridge, The Arc De Triumph, relics from Egypt and Rome, ruins of Ayutthaya, Angkor Wat and many more world famous landmarks. It is located on the Sukhumvit Highway, just across Bangkok Pattaya Hospital. The entry fee is 600 THB per person. Little expensive, as you will be through in less than 2 hrs.
What else do you want to do in Pattaya?
Eat to your heart's content: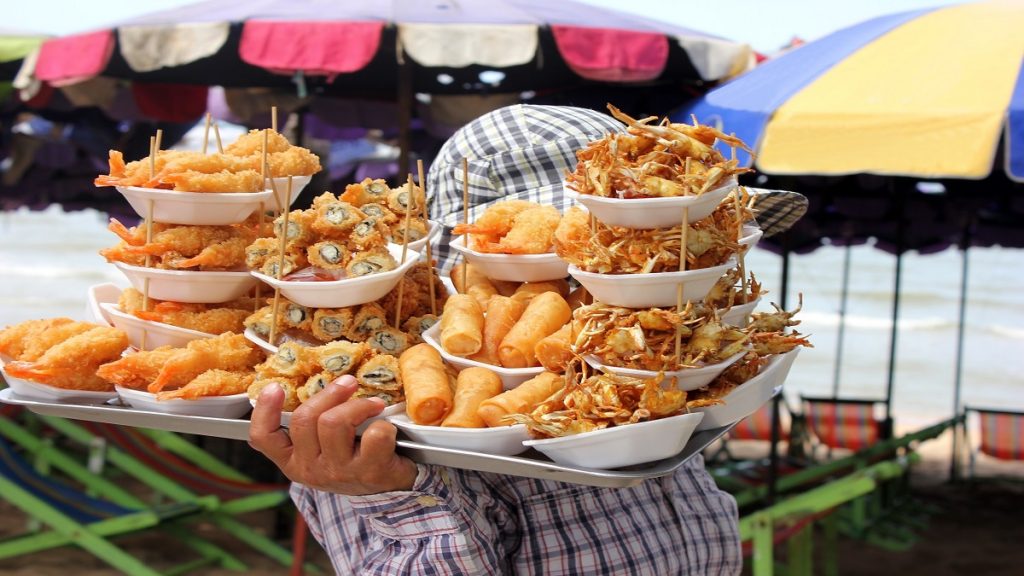 Pattaya has a fantastic range of restaurants. Thai, American, Chinese, Korean, Indian, Middle Eastern, Mexican, Japanese, French, Italian, British, German, Russian & Scandinavian, almost all cuisine is available here in prepared with the freshest ingredients giving authentic taste and all at very reasonable price. Eat from the vendors on the street or eat on the highest floors of tallest high rise enjoying the breathtaking sea view, eat freshest seafood on the beach or enjoy the rich surroundings of fine dining restaurants. You will be spoilt for choices in Pattaya.
Over time I have become fond of Thai food and can now even cook some of the Thai dishes thanks to the cooking classes I attended in Chiang Mai and then again in Pattaya.
Go for Spa & Massage: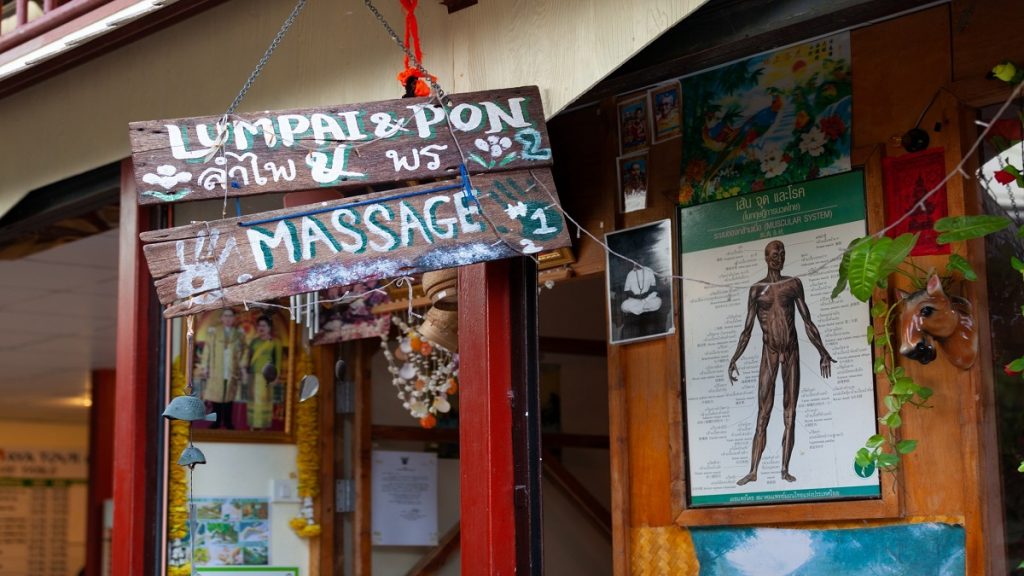 Traditional Thai massage is not only good for health, it is relaxing too. A session usually last two hours and includes rhythmic pressing and stretching of the entire body, pulling of fingers, ears and toes, cracking of knuckles and even walking on your body. It may hurt a little but will be relaxing in the end. The foot massage or foot reflexology session is about one hour long and will relieve you off all the tiredness of the day and make you ready for next day's grind of exploring Pattaya.
Get some Adrenaline Rush:
Bungee Jump, Sky Diving, Scuba Diving, Zip Lining, Fly Boarding, Paramotor, Dirt Biking, ATV's, GoKarting or a Rocket Ball at Bali Hai Pier, all are there, you just have to come with all your courage and guts.
Are you now ready for Pattaya?
Pattaya receives a large number of repeat visitors, be it professionals, families or retired couples. They have made Pattaya their preferred destination after visiting and experiencing so many destinations all over the globe. Ask them the reason for Pattaya being their preferred destinations, out comes the list of assets: climate, location, accessibility, accommodation for all type of pockets, cuisine from around the world, leisure and sports activities, entertainment choices, all these makes Pattaya by far the best beach destination in Asia. They will also tell you that night spots are basically contained in Walking Street area, Beach Road and some part of the Second Road and comes alive in the evening, you can choose to visit them or ignore them.
Definitely a good place for your money. Hotels are cheaper than Phuket or Bangkok. Bus from Ekamai bus terminal takes only 130 TBH for two hours ride to Pattaya. The local transport is just 10 to 20 TBH.
You live only once so why not give it a try. Explore Pattaya, try to find out Pattaya secrets. If you don't like it don't go back.