What to do in Chiang Mai ? In fact, a lot. Chiang Mai is a second largest city after Bangkok and is more relaxed in comparison to Bangkok's madness. There are so many places to see in and around Chiang Mai city that you'll have to plan well to fit them all in. See the temples, go shopping in the night bazaar in chiang mai, enjoy the river cruise, enjoy the delicious Thai cuisine, learn Thai cooking etc. etc. etc. Beyond the city limits, you'll come across the natural perfection, awe-inspiring animals and unique tribal communities deep into the mountains.
Ok, let me dish out some of my top activities that you may like to do in Chiang Mai, and then I'll ask you whether your question " What To Do in Chiang Mai ?" is answered or not.
Here we go…
1. Visit Wat Doi Suthep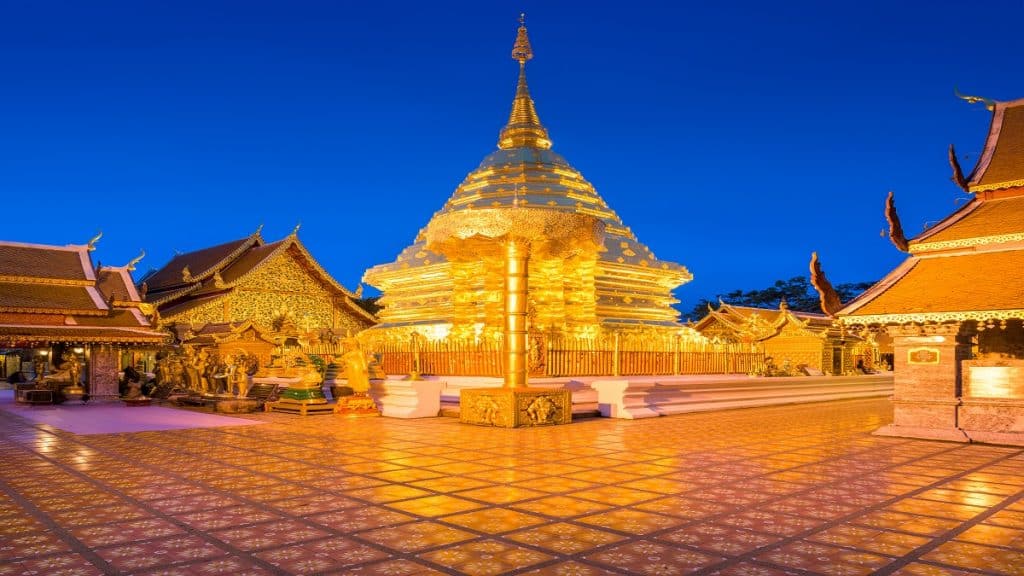 This temple cum monastery is located on top of Doi Suthep. You will need to climb 300 stairs to reach the temple. If you don't fancy a climb, like me, there is a lift/tram for you. On top of the mountain, there is a golden spire surrounded by walled enclave. The walls are richly decorated with historical murals and shrines. Inside the there is a beautiful statue of buddha. It is one of the most religiously and spiritually significant places in Thailand. Its origin dates back to the 13th century.
2. Enjoy The Traditional Khantoke Dinner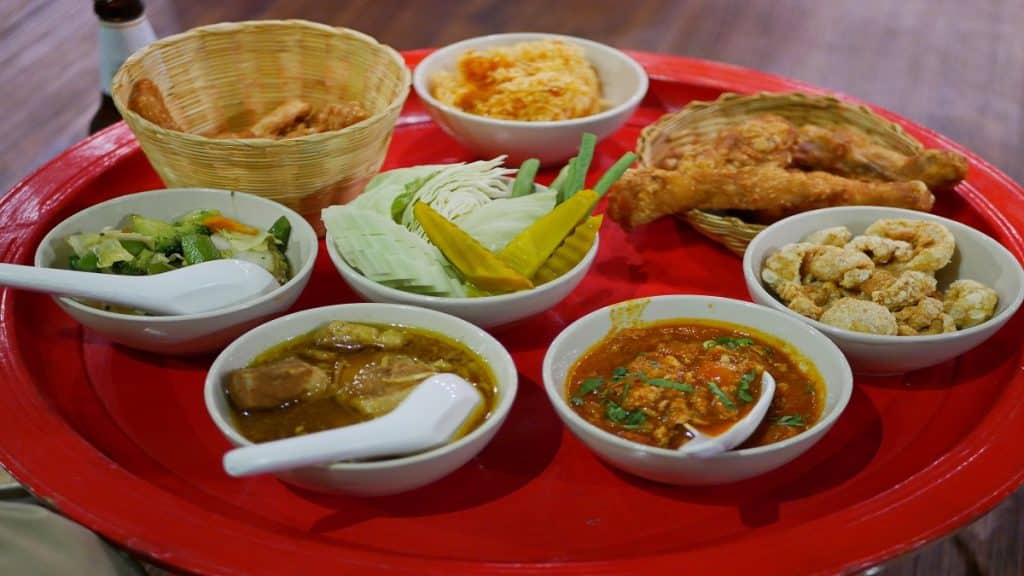 This tradition of Khantoke dinner dates back to many centuries. People celebrate the local festivals and holidays in their homes with Khantoke dinner. When in Chiang Mai, this Khantoke dinner experience is a must. Visitors are seated on the ground and food is served in a circular tray laden with Northern dishes. Visitors enjoy the dishes while watching traditional North Thailand dances and hill tribe shows. It's a two-hour enjoyment of food, music and dance. Learn more about other popular thai dishes which are also mentioned as taste of thailand.
3. Cruise on the River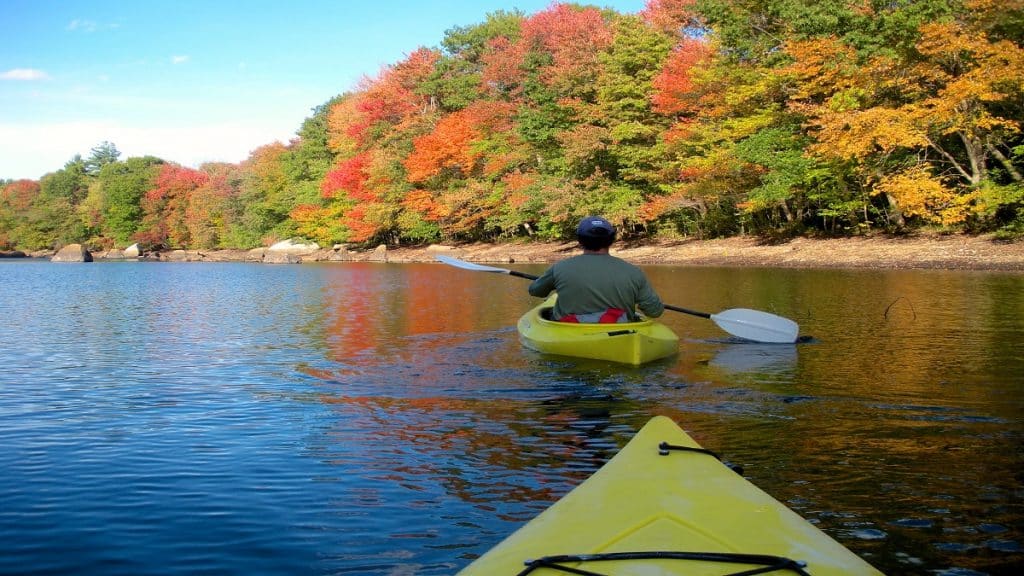 This is another beautiful way of seeing Chiang Mai along the river. This boat tour on river Mae Ping lasts for about two hours and you will be treated to a beautiful scenery right in the heart of the city. They will stop by the local farm and you can sample local fruits and herbs. You will also be served with mango and sticky rice.
4. Do the Old Town Temple Tour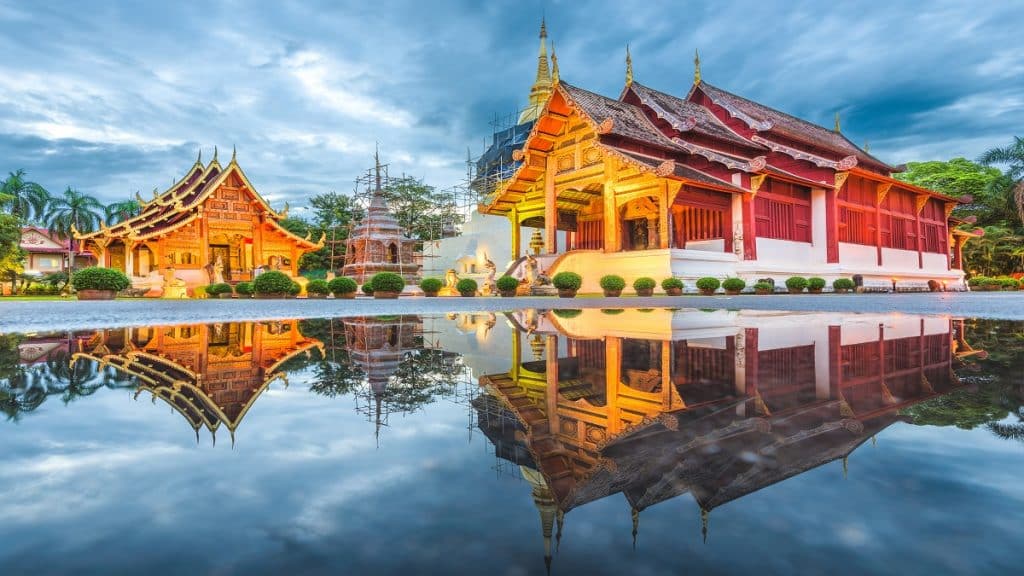 If you are interested in history and temples, take a guided tour to visit all the temples in the old city area and around it. The guide will take you to Wat Phra Singh, Wat Suan Dok, Wat Chedi Luang and Wat Chet Yot. There is one more exciting way to see all these temples – take a Segway tour of three hours, though it is more about Segway ride than the temples. I enjoyed going round these temples on Segway.
5. Shop at the Night Bazaar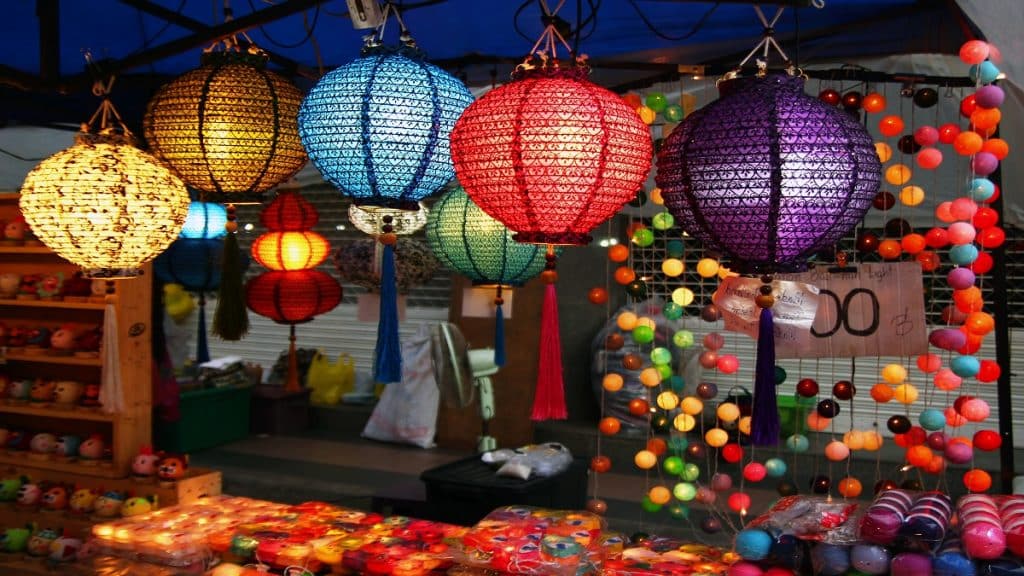 In the evening, the centre of Chiang Mai comes alive with huge Night Market. The night bazaar is the main night time attraction of Chiang Mai. Here you will find shops, restaurants, bars and entertainment. You can pick up everything here from old antiques to fake Rolex watches and handicrafts to cheap DVD's. Do bargain hard here, thai shopkeepers know that you will bargain hence the first quote will always be twice of what you will eventually pay. When in Chiang Mai, it is highly likely that most of your evenings will be spent here. It will be a good idea if you stay around this night market if you are Chiang Mai for less than a week.
6. Celebrate Yi Peng Festival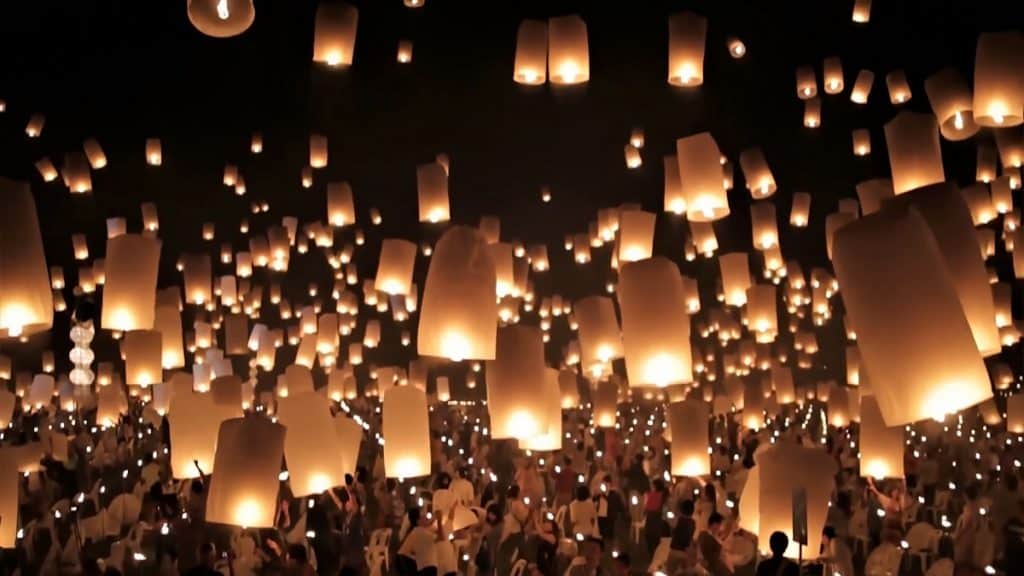 Yi Peng is a festival of light when Chiang Mai people release thousand of lighted lanterns in the sky while making a wish. The lanterns symbolically carry the wishes and the dreams to the heaven.The sky is transformed into a wonderful and surreal sea of little lanterns. The festival takes place in the month of November. There is no fixed date, the exact date being announced few weeks before the festival.
7. Join Thai Cooking Class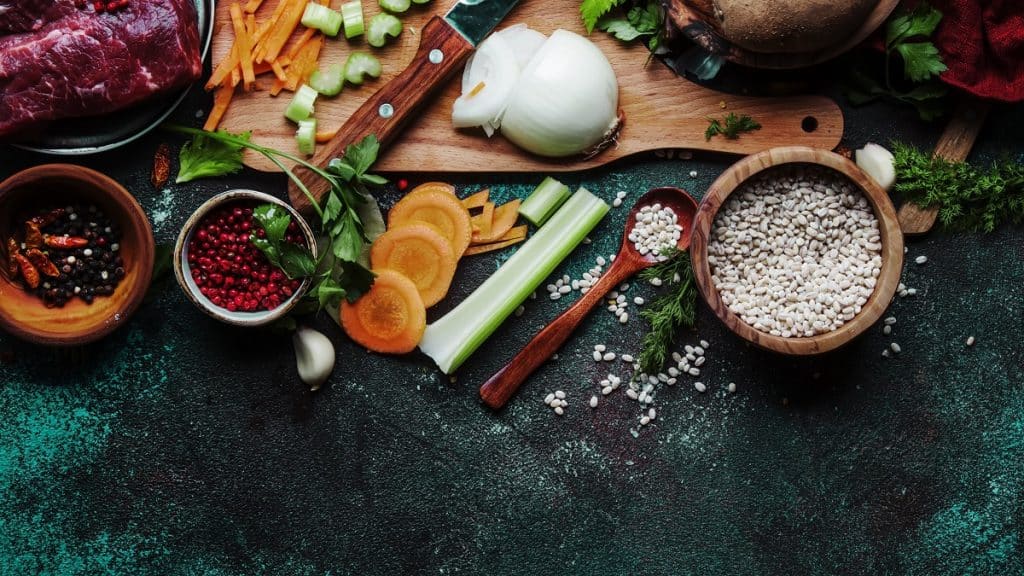 You like Thai food and have eaten at various places starting from street stalls to upmarket restaurants, now how about learning to cook your favourite dishes. If you enjoy cooking, attend a cooking course in one of the Thai cooking classes. Your day will start from going to the market to procure ingredients, head back to the classes make four to five dishes under the guidance of the teacher and then eat a lot of food that you have prepared.
8. Visit Karen Long Neck Tribe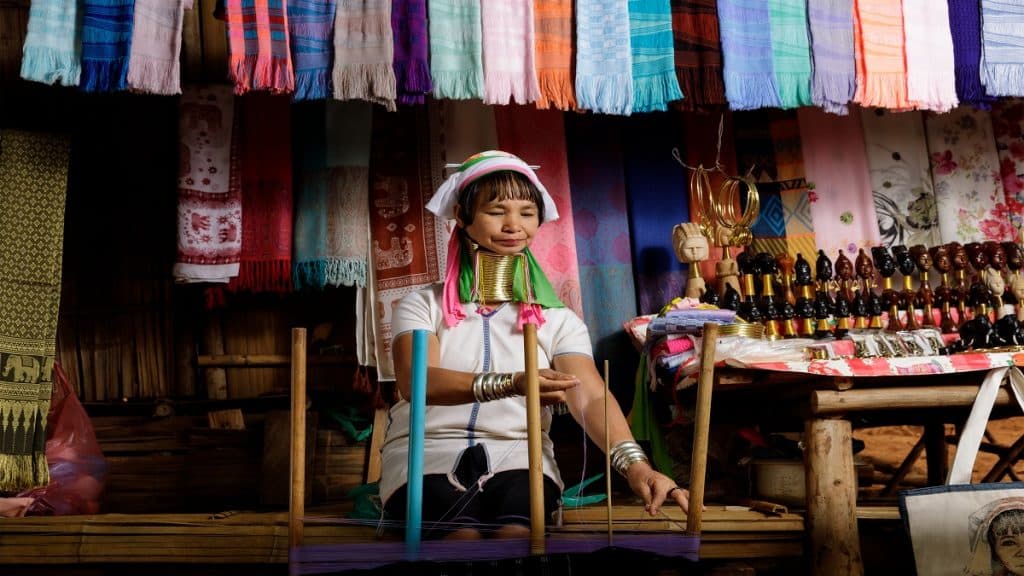 Karen tribes are basically from Myanmar. They reside on the mountains on Myanmar Thai border. There are many Karen hill tribe settlements in Chiang Mai and all are tourist attractions because of their long neck women. Karen women are famous for their long necks and the brass ring that they wear around the neck. Many people in the past have questioned the very existence of this arrangement and have dubbed these settlements nothing more than the Human Zoo. In spite of all the noise, visitors visit these places in hordes. And, it is a fact that this tourist activity is sustaining their livelihood. Going back to Myanmar is not an option for them as the life is much tougher there. I visited one of the villages known as Baan Tong Luang and I am glad that I did. I chatted with these long neck women of Karen hill tribe and also bought some beautiful souvenirs from them.
9. Visit Bo Sang Handicraft Village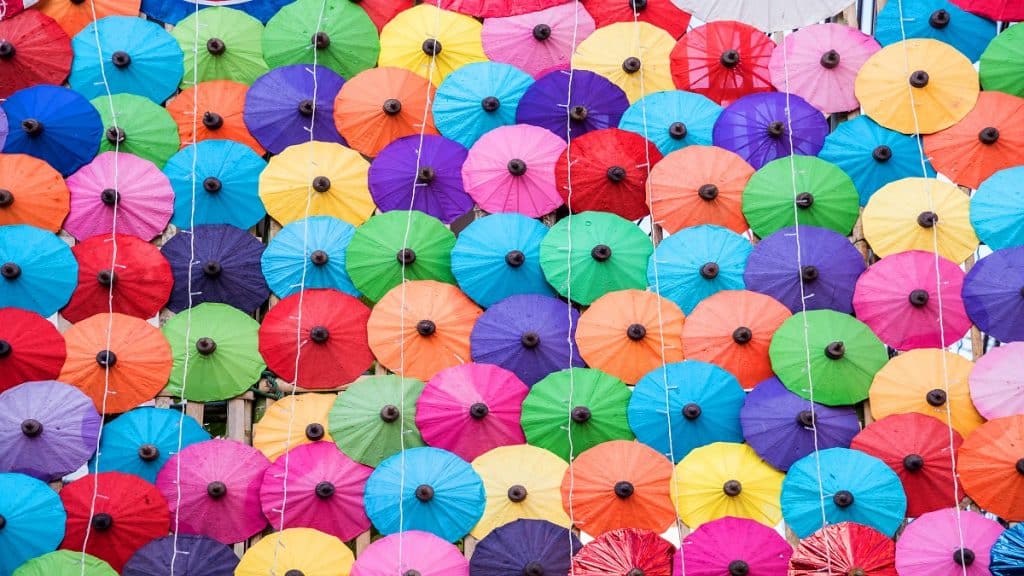 Also known as Umbrella Village, is the manufacturing site of all the colourful umbrellas that you will find in various shops of Chiang Mai. It is interesting to see the umbrellas being made all by hand in a traditional kind of way. You can buy some umbrellas in various sizes and colours. They are not expensive, but you'll have to figure the transport back to your own country. They can help you here as well, they can ship it to any part of the world and the cost is again reasonable.
10. Go to Elephant Natural Park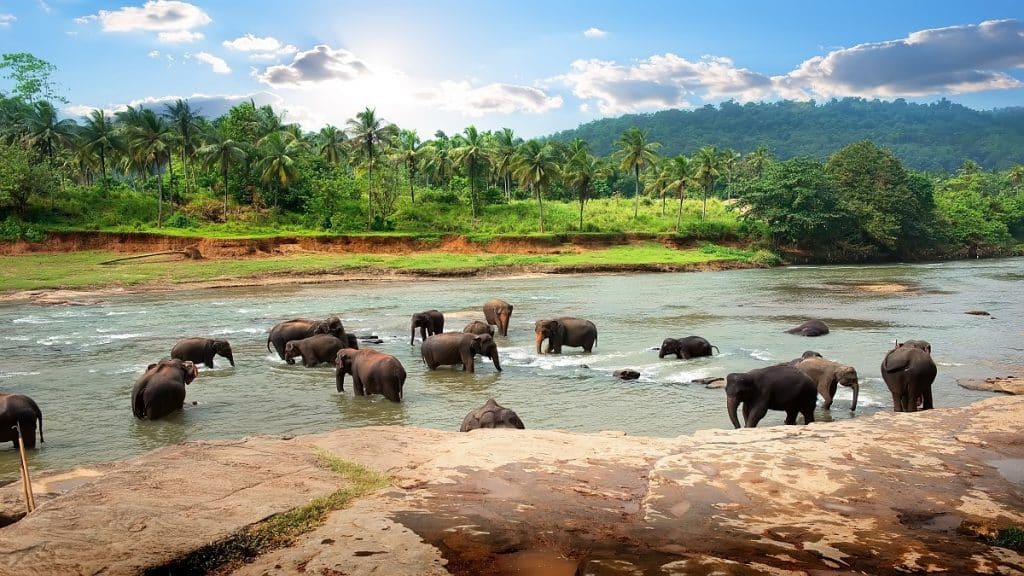 This is elephant sanctuary, where the abused and injured elephants are brought in and tended to. Here there are no elephant rides or elephant shows for you. There is no brutal elephant training which has been a tradition in the southeast Asia for hundreds of years. Earlier the elephants were trained for logging and military purposes, but now in Thailand the elephants are trained for entertaining tourists. Elephant Nature Park is different in the sense that here the mistreated elephants are rescued from the tourist trade and given a better life. You can visit the place for a day or volunteer for a week and take care of elephants. There are dogs and cats as well. You can visit for the half day too, but to really appreciate the work these people are doing and to enjoy all the activities like bathing the elephant, feeding the elephant, watch the elephant playing in the mud etc., my suggestion would be to visit Elephant Natural Park for full day.
11. Up, Close and Personal With Tigers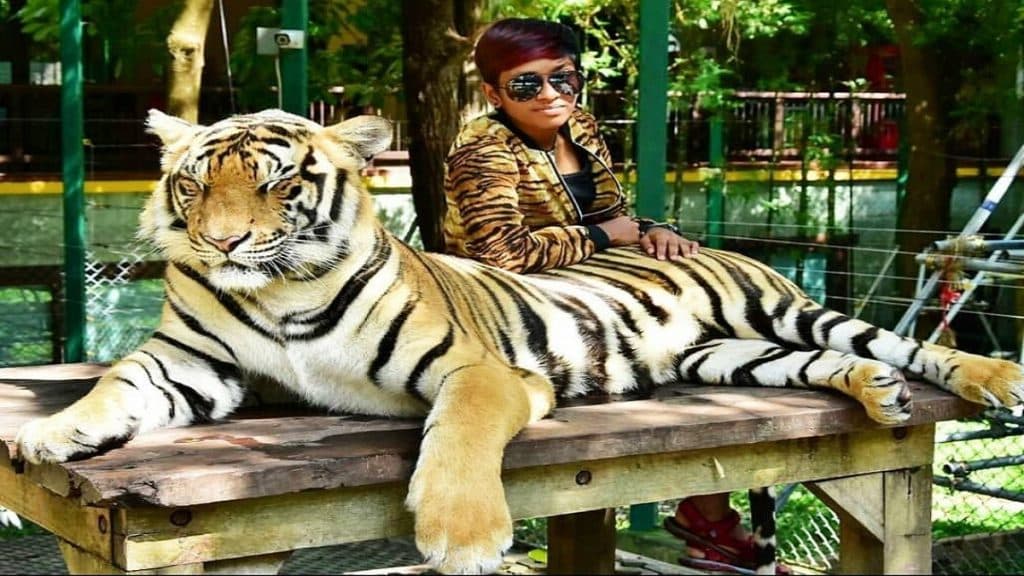 If getting up, close and personal with tigers is on your bucket list than the Tiger Kingdom is that place where you can interact with baby cubs and adolescent tigers. Many people doubt that the tigers are sedated and question the very existence of such places where the animals are not in their natural habitat. The official story is that these tigers are born and brought up around humans, hence they have become used to humans. They also claim that the tigers are not sedated. I found the tigers very active and playful when I was there at the Tiger Kingdom. The way the tiger population is going down all over the world, at least these guys at the Tiger Kingdom are doing their bit in the direction of tiger conservation though it may be more for commercial reasons. Take your call, you may not find this opportunity of getting so close with this majestic animal everywhere else in the world
12. Get an Adrenaline Rush
Looking for some adrenaline rush, go ziplining, white water rafting, waterfall repelling, rock climbing, river kayaking, hot air balloon or may be mountain biking. There are so many of them, you have to choose which one is for you. Read my post Top 11 Adventures of Chiang Mai.
13. Monk Chat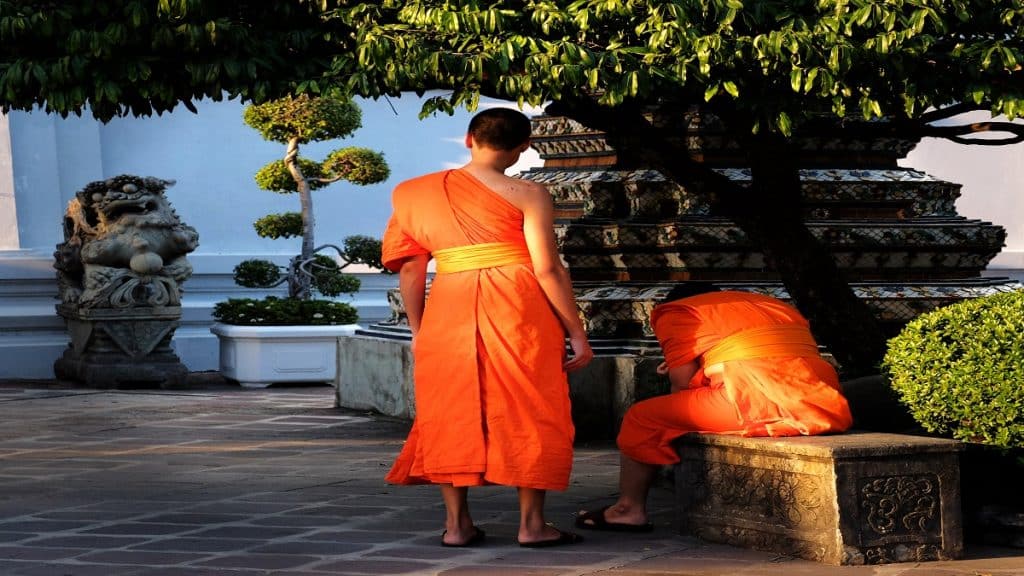 What do the monks do whole day? Why do they become monk? What is this monk-hood all about? Do all these questions come to your mind when you see the monks almost everywhere in Thailand and especially in temple complexes. You can get all these questions answered by the monks themselves in Chiang Mai. A few temples in the city have these outreach programs called Monk Chats whereby the visitors are able to discuss just about any topic, not necessarily only buddhism. The chats are not intended to be preachy but very informal discussions. You can have monk chat at any of the famous temples like Wat Chedi Luang, Wat Suan Dok or Wat Umong. The best is Wat Chedi Luang where the monk chat is available every day between 9:00 am to 6:00 pm. At other two Wats it is available only on Mon, Wed & Fri between 5:00 pm to 7:00 pm. Actually these young monks are students and this activity is part of their study program whereby they can improve their English and gain confidence by interacting people from different countries. So, feel free to talk to them.
14. Eat, Eat, Eat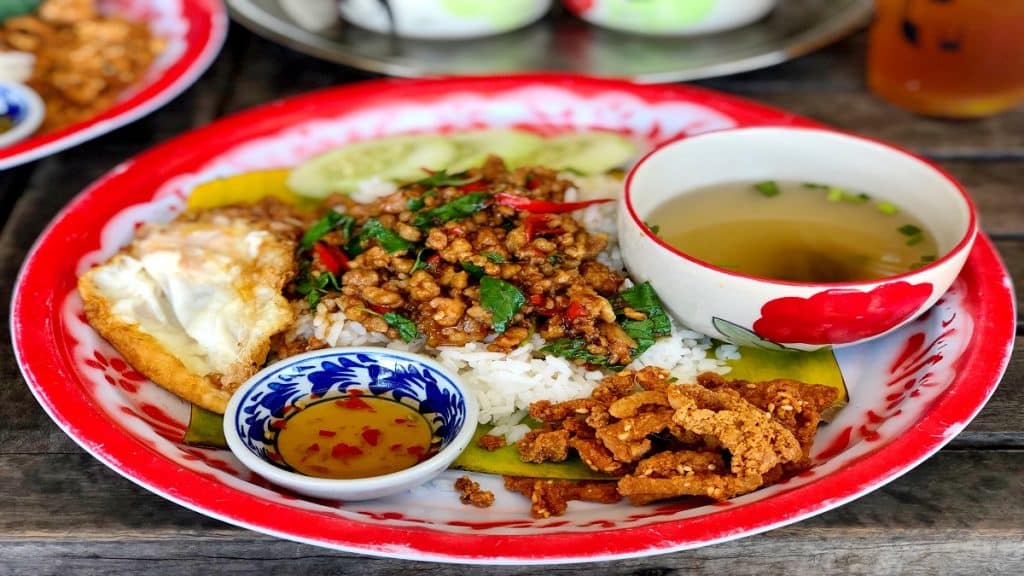 Whether you are in mood of Thai Food, European or a blend of both cultures you have choices all around the city whether budget or fine dining experience. There are other cuisines as well like Japanese, Chinese, Korean or Indian. Basically you are spoilt for choices.
Now the question from where we started "What to do in Chiang Mai ?"
This question is already answered above to a large extent. Now the more appropriate one is how are you going to plan all these activities in your short itinerary.
Keep enough days in your itinerary.
The above is just the list of my favourite ones, you can see and do much more in Chiang Mai.
What else do you want to do in Chiang Mai? What all things you think can be added to this list? Please leave your reply in the comment box at the bottom, It would be nice to know your favourites in Chiang Mai.