Welcome to the dazzling oasis of Las Vegas, where the glitz and glamour of the famous Strip reign supreme. But did you know that beyond the neon lights and bustling casinos lies a surprising diversity of lakes? Yes, you heard it right! From the desert to the waterfront, Las Vegas boasts a collection of stunning lakes that are waiting to be explored.
Whether you're seeking a tranquil escape from the city's hustle and bustle or an adrenaline-pumping adventure on the water, Las Vegas has it all. Imagine kayaking through the crystal-clear waters of Lake Mead, the largest reservoir in the United States, or enjoying a leisurely cruise on Lake Las Vegas, a man-made paradise nestled amidst the desert landscape.
So, pack your sunscreen and get ready to dive into the unexpected wonders of Las Vegas lakes. Let's embark on a journey that will redefine your perception of this vibrant city and show you a side that you never knew existed.
The Transformation of the Desert Landscape
Las Vegas, known for its arid desert climate, might not be the first place that comes to mind when you think of lakes. However, the transformation of the desert landscape into a haven for water enthusiasts is nothing short of remarkable. Through careful planning and engineering, the city has managed to create a network of lakes that not only provide recreational opportunities but also serve as a vital water source for the region. This transformation has not only added to the allure of Las Vegas but has also brought a sense of harmony to the otherwise harsh desert environment.
The Importance of Water in Las Vegas
Water may appear to be an in-demand resource in a city known for its excesses. But it's impossible to exaggerate how crucial water is to Las Vegas. Water has a major influence on the identity of the city, from the recognisable fountains on the Strip to the luscious golf courses and resorts. The lakes in and around Las Vegas not only offer a much-needed break from the sweltering desert heat, but they also act as a vital water supply for the city's citizens and businesses. Las Vegas wouldn't be the pulsating, booming metropolis it is now without these lakes.
The Surprising Variety of Lakes in the Area
When you think of Las Vegas, images of sprawling casinos and lavish hotels probably come to mind. But did you know that the city is also home to a surprising variety of lakes? From natural reservoirs to man made wonders, the lakes in the Las Vegas area offer something for everyone. Whether you're looking for a serene escape or an adrenaline-pumping adventure, you'll find it all here. Let's dive into the most notable lakes that make Las Vegas a true waterfront paradise.
Lake Mead – The United States largest reservoir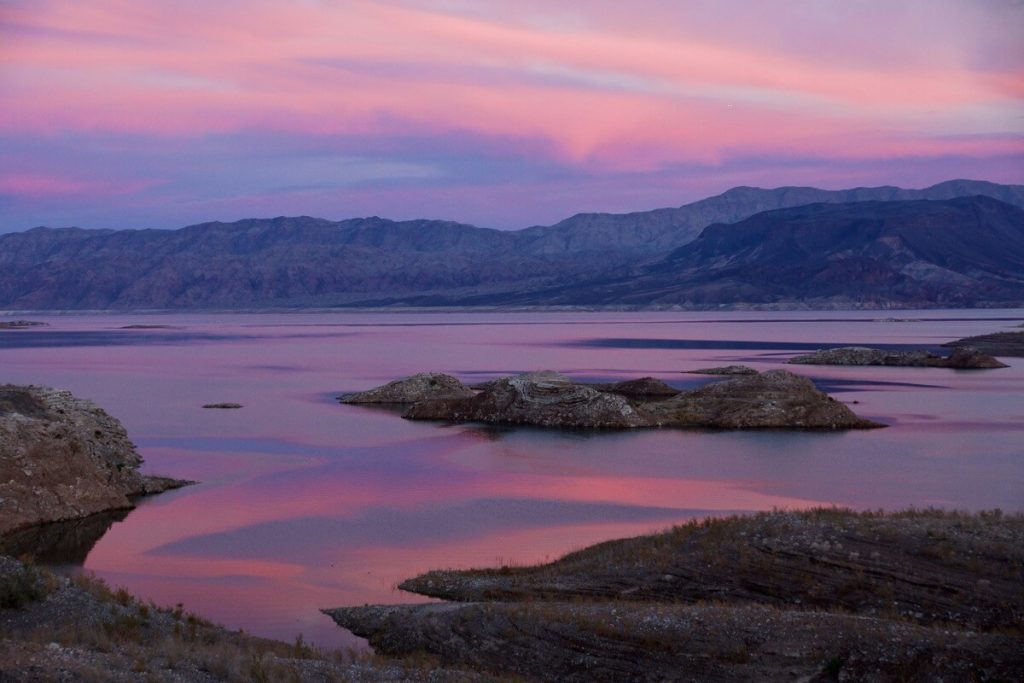 Nestled in the Mojave Desert, just a short drive from the Las Vegas Strip, Lake Mead awaits. As the largest reservoir in the United States, it spans an impressive 1.5 million acres, offering visitors a vast expanse of sparkling blue waters to explore. Whether you're looking to relax on the shores or dive into thrilling water activities, Lake Mead has it all.
The Hoover Dam, an engineering marvel that stands tall and strong and provides electricity to the surrounding areas, is one of the highlights of Lake Mead. If you want to understand more about the significance and history of this famous dam, take a guided tour, or just stand back and awe at its magnificence. The dam is a must-visit location for tourists since it provides breathtaking views of the lake and the adjacent desert.
For those seeking adventure, Lake Mead has plenty to offer. From jet skiing and wakeboarding to fishing and kayaking, there's an activity for every water sports enthusiast. Explore the hidden coves and secluded beaches where you can relax and soak up the sun in peace. Don't forget to pack a picnic and enjoy a leisurely lunch by the water's edge, taking in the breathtaking views and the serenity that surrounds you.
Lake Las Vegas – A man-made oasis in the desert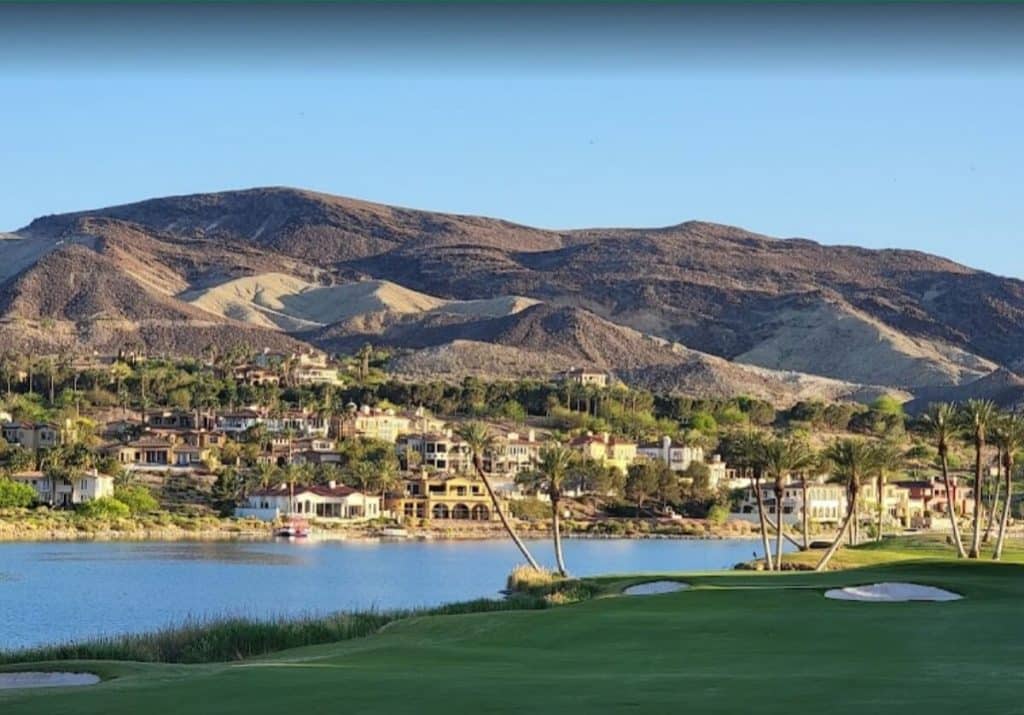 Just a short drive from the Las Vegas Strip, another hidden gem awaits – Lake Las Vegas. This man-made oasis in the desert is a true testament to the ingenuity and creativity of the city. With its shimmering blue waters and Mediterranean-inspired architecture, Lake Las Vegas offers a unique and enchanting experience for visitors.
Stroll along the picturesque waterfront promenade, lined with charming shops, restaurants, and cafes. Indulge in a leisurely meal with a view, or sip on a refreshing cocktail as you watch the sunset over the lake. For a truly unforgettable experience, consider taking a gondola ride, gliding through the tranquil waters while being serenaded by a gondolier. It's a taste of Venice right in the heart of the desert.
If you're looking to get active, Lake Las Vegas has plenty of options for you. Rent a paddleboard or a kayak and explore the lake at your own pace, taking in the stunning views of the surrounding mountains and desert landscape. Or, tee off at one of the world-class golf courses that dot the area, offering challenging holes and breathtaking scenery. No matter how you choose to spend your time at Lake Las Vegas, one thing is for certain – you'll be surrounded by beauty and tranquility at every turn.
Lake Tahoe – A scenic escape just a few hours from Las Vegas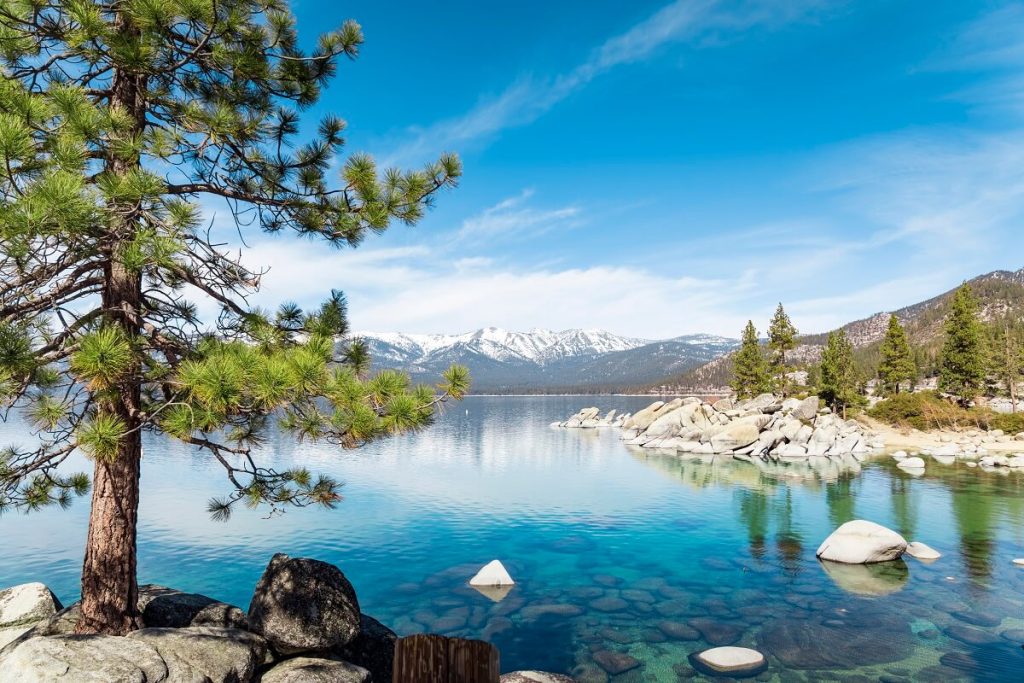 If you're willing to venture a little further from Las Vegas, a scenic escape awaits just a few hours away – Lake Tahoe. Known for its crystal-clear waters and breathtaking mountain views, Lake Tahoe is a paradise for outdoor enthusiasts and nature lovers alike.
The lake is nestled in the Sierra Nevada Mountains, offering a picturesque backdrop for any activity you choose. Whether you're hiking along the shoreline, biking through the surrounding forests, or simply lounging on the beach, you'll be surrounded by natural beauty at every turn. In the winter months, Lake Tahoe transforms into a winter wonderland, with world-class ski resorts offering endless opportunities for snowboarding, skiing, and snowshoeing.
One of the highlights of Lake Tahoe is Emerald Bay, a stunningly beautiful inlet that is often considered one of the most photographed spots in the world. Take a boat tour to explore the bay and its hidden coves, or hike down to Vikingsholm, a Scandinavian-style castle nestled on the shore. The views from here are simply breathtaking, and it's a must-visit spot for any visitor to Lake Tahoe.
Lake Mohave – A paradise for water sports enthusiasts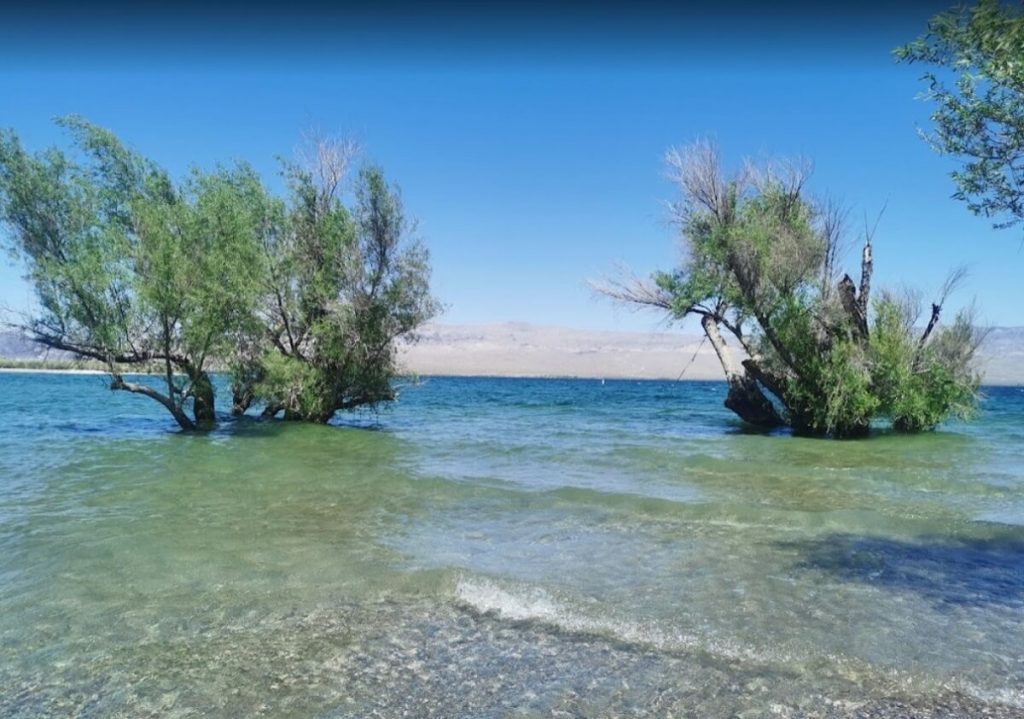 For those seeking a more adventurous experience, Lake Mohave is the perfect destination. Located along the Colorado River, just a short drive from Las Vegas, Lake Mohave offers a paradise for water sports enthusiasts and adrenaline junkies.
Lake Mohave is a sight to behold with its beautiful rock formations and crystal-clear waters. There are many ways to get your heart racing, whether you enjoy wakeboarding, jet skiing, or simply sailing on a boat. Discover the isolated beaches and secret coves where you can unwind and enjoy the sun in between water sports activities.
Fishing is also a popular activity at Lake Mohave, with the lake being home to a variety of fish species, including bass, catfish, and trout. Cast your line and see if you can reel in the catch of the day, surrounded by the beauty of the desert landscape.
If you're looking to extend your stay, consider camping at one of the many campgrounds that dot the lake's shoreline. Fall asleep under the stars, with the sound of the water lapping against the shore as your lullaby. You'll come away from it feeling renewed and refreshed.
Lake Sarah in Desert Shores – A Peaceful Retreat in the Desert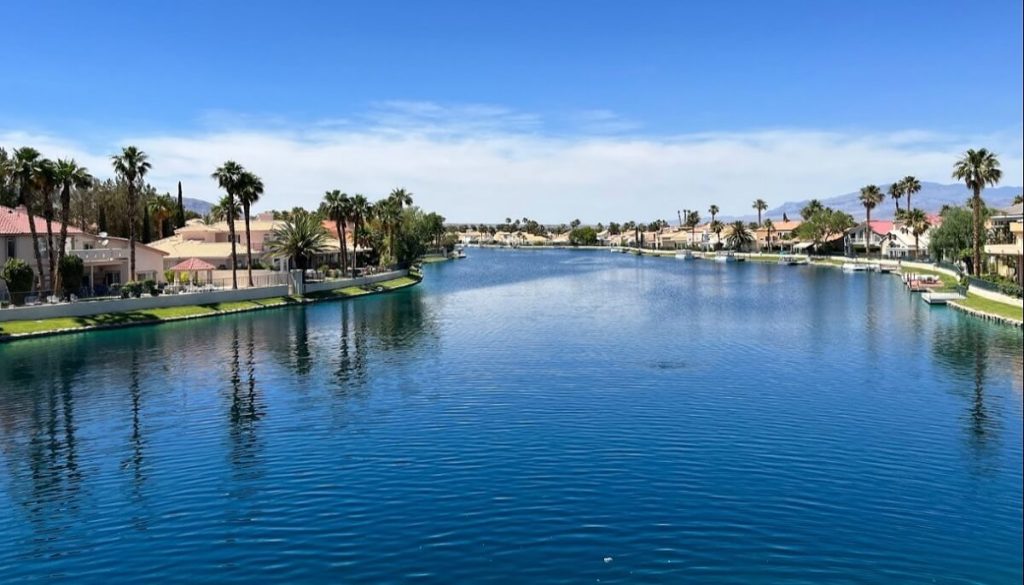 While the aforementioned lakes are only a short drive from Las Vegas, there is one undiscovered gem located right in the middle of the city: Desert Shores. Desert Shores, tucked away in a suburban area, provides a calm and serene escape from the Strip's commotion. This lake, one of four created specifically for the residents of the Desert Shores neighbourhood, is situated in Las Vegas, Nevada. But everyone can go to the lake and take in the surroundings, even those who are not part of the community.
The centerpiece of Desert Shores is its 320-acre man-made lake, which offers residents and visitors alike the opportunity to enjoy a wide range of water activities. Wander lazily around the lake's perimeter or hire a paddleboat and cruise the calm waters at your own pace. The lake is also home to a variety of species, including ducks, geese, and even the rare swan, contributing to the natural beauty and peacefulness of the region.
Desert Shores is also home to a number of parks and green spaces, perfect for picnics, jogging, or simply enjoying some fresh air. Indulge in a meal at one of the waterfront restaurants, where you can savor delicious cuisine while taking in the stunning lake views. The peaceful ambiance and natural beauty of Desert Shores make it a hidden gem that shouldn't be missed.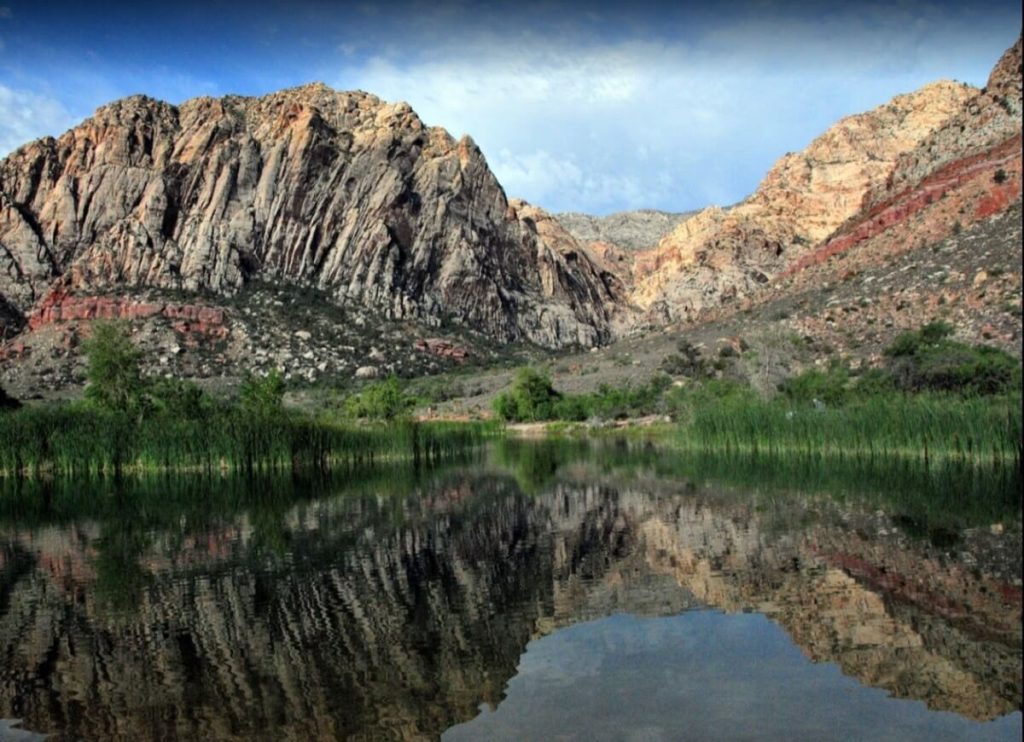 Consider going to Spring Mountain Ranch State Park's Lake Harriet if you're seeking a fantastic outdoor area. Hiking, fishing, and picnicking are just a few of the activities available in this stunning location, which is surrounded by amazing natural splendour.
Hiking the trails is one of the best ways to appreciate Lake Harriet's splendour at Spring Mountain Ranch State Park. There are a number of paths with different lengths and levels of difficulty, so there is something for everyone. The pathways wind through the breathtakingly beautiful natural terrain of the park and provide amazing views of the lake and the mountains in the distance.
It's a terrific area to cast a line and try your luck because the lake is stocked with bass, catfish and rainbow trout. All year long, fishing is permitted, but make sure to read the park's rules and get the required permits before you go. Don't forget to bring your fishing supplies and a cooler to preserve the freshness of your catch. Whether you're fishing in the pristine waters, taking a picnic with loved ones, or just trekking along the walkways, Lake Harriet is sure to leave an impression on your mind and soul.
Lake Jacqueline – Tranquil escape in the heart of Las Vegas Desert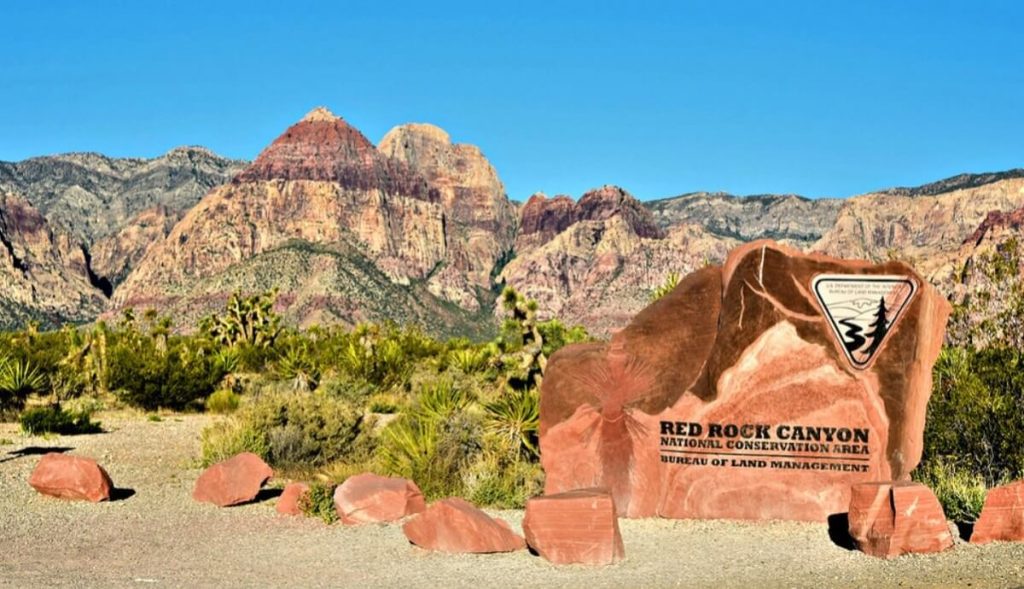 Lake Jacqueline, located in the centre of the Las Vegas desert, provides a calm and tranquil retreat from the activity of the city. Near North Durango Drive in the northwest portion of Las Vegas is where you'll find Lake Jacqueline. Every day of the week, from sunrise to sunset, the lake is accessible to the general public. Although there is no entrance fee, guests are expected to abide by all park policies. On-site parking is available, but plan ahead because it tends to get busy on weekends and during holidays.
Visitors can enjoy a wide range of services and activities at Lake Jacqueline. The lake has a variety of fish species, including bass, catfish, and bluegill, making fishing a well-liked activity there. The lake is open for boating, and non-motorised watercraft like kayaks and canoes can be rented. For visitors who want to explore the neighbourhood, the park also features walking routes and picnic spaces with tables and grills. The location has drinking fountains and restrooms for the convenience of tourists.
Even though Lake Jacqueline is a stunning location by itself, there are also lots of neighboring sites to discover. The Red Rock Canyon National Conservation Area is close by and provides access to hiking trails, beautiful drives, and rock-climbing opportunities. The opulent Red Rock Casino Resort & Spa is one of the many lodging options in the adjacent town of Summerlin if you're looking for somewhere to stay.
Cornerstone Park – A Beautiful Oasis in Henderson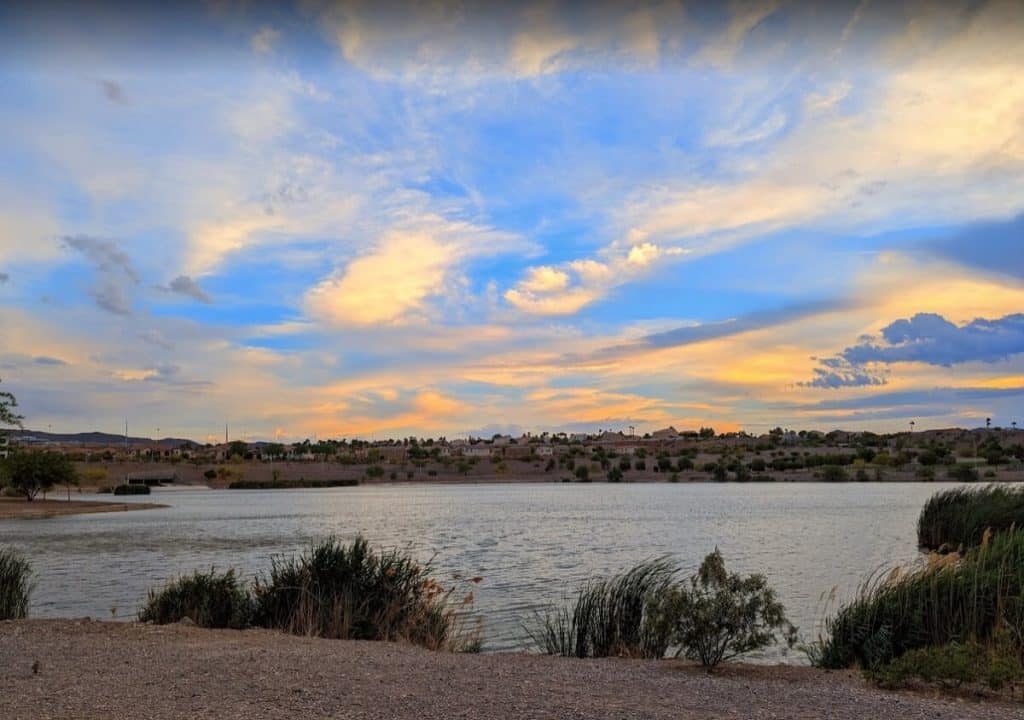 Cornerstone Park includes 100 acres of land and features a 31-acre lake that is home to various birds and fish. You can stroll or cycle around the lake on the paved trail or enjoy a picnic at one of the covered tables. The park also contains basketball and volleyball courts, a corporate plaza area, a warming kitchen and bathrooms.
Viewing wildlife is one of Cornerstone Park's delights. The lake is home to a variety of birds, including pelicans, herons, egrets, and geese. Rabbits, squirrels, coyotes, and other creatures can all be seen in the park. If you're fortunate, you might even see a burrowing owl or a bald eagle.
Cornerstone Park is open daily from 6 a.m. to midnight. Admission is free and parking is accessible. The park organises numerous events throughout the year, such as festivals, concerts, sports viewing parties, and community initiatives. Cornerstone Park is one of the most beautiful spots in Henderson and a fantastic place to get away from the rush and bustle of daily life.
Tule Springs – A Historic and Natural Treasure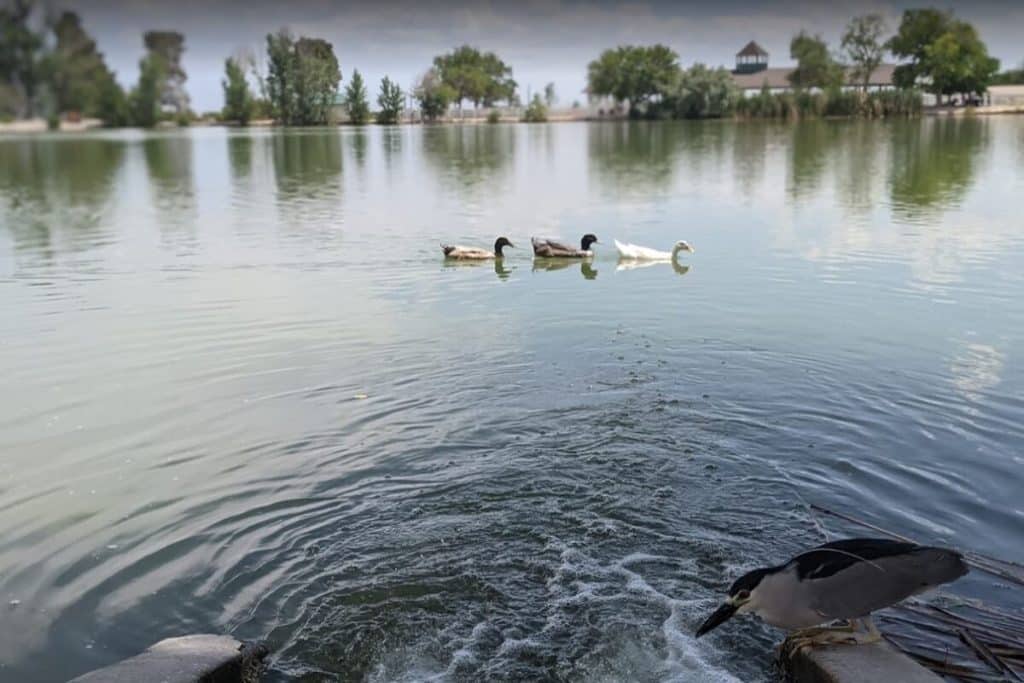 Visit Las Vegas Lake Tule Springs if you want to find out more about the city's past and natural surroundings. This lake is a portion of the Tule Springs Fossil Beds National Monument, which protects the fossils and artefacts of prehistoric creatures and people who once lived in this region.
Tule Springs lake is part of a chain of little lakes that together created an oasis in the Mojave Desert. Early humans who hunted and camped here were drawn by the water, together with mammoths, camels, horses, bison, and lions. At the visitor centre or on guided excursions, you can view some of the tools and fossils they left behind.
Floyd Lamb Park, a 680-acre urban park that provides recreational opportunities and picturesque views, includes Tule Springs Lake as well. Around the lake, you can go fishing, picnicking, hiking, biking, or riding a horse while taking in the scenery and fauna. Additionally, you can go to the Tule Springs Ranch, a historical area that depicts a pioneering Las Vegas ranch.
Planning Your Visit to Las Vegas Lakes
Now that you're ready to embark on your adventure to Las Vegas lakes, it's important to plan your visit accordingly. Here are some suggestions to make the most of your trip:
1. Check the weather: Las Vegas, especially in the summer, can experience intense heat. Prior to your journey, make sure to check the weather forecast and pack appropriately. Remember to include hats, sunscreen, and lots of water to stay hydrated.
2. Renting equipment: If you're planning on participating in water sports or fishing, consider renting equipment instead of bringing your own. Many of the lakes have rental facilities that offer a wide range of equipment, from boats to fishing gear.
3. Safety first: While the lakes offer endless opportunities for fun and adventure, it's important to prioritize safety. Make sure to wear life jackets when participating in water activities and follow all safety guidelines provided by the rental facilities or tour operators.
4. Plan ahead: Some of the lakes, such as Lake Mead, require permits for certain activities. Make sure to check the regulations and obtain any necessary permits before your visit. It's also a good idea to check for any closures or restrictions that may be in place.
5. Explore beyond the lakes: Even if the lakes offer a wonderful break from the city, don't forget to check out the other sights in the Las Vegas region. There is a great deal more to see and do besides the lakes, such as national parks and historic places.
Conclusion: Discovering the Unexpected Beauty of Las Vegas Lakes
As you can see, Las Vegas is more than just bright lights and bustling casinos. The surprising diversity of lakes in the area offers a unique opportunity to explore a different side of this vibrant city. From the vastness of Lake Mead to the luxurious oasis of Lake Las Vegas, each lake has its own charm and allure. Whether you're seeking adventure on the water or simply looking for a tranquil escape, Las Vegas lakes offer something for everyone. So, pack your bags, put on your sunscreen, and get ready to discover the unexpected beauty of Las Vegas lakes.