Nestled in the heart of Alabama, Cathedral Caverns State Park unveils an awe-inspiring natural wonder that will leave you speechless. This remarkable geological masterpiece transports visitors into a subterranean world filled with breathtaking formations that have been eons in the making. With its towering stalagmites reaching up towards the ethereal ceiling and intricate passageways carved by ancient waterways, this underground paradise is a testament to the raw power of nature.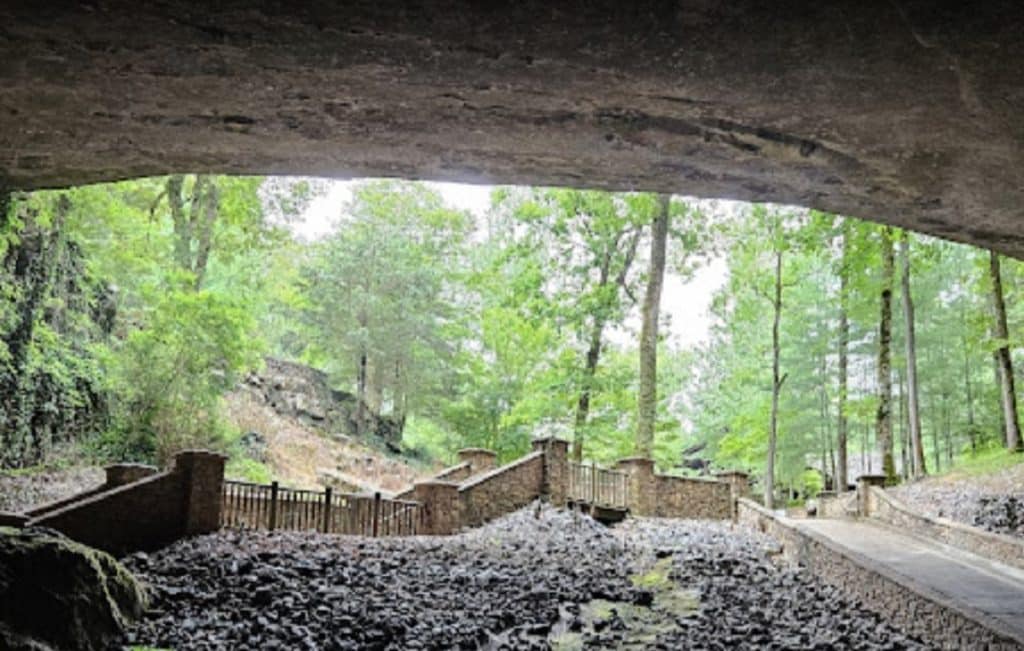 As you venture deeper into the labyrinthine corridors of the caverns, you'll be captivated by the kaleidoscope of colors that adorn the walls, from vibrant reds and oranges to tranquil blues and purples. Each twist and turn reveals something new: delicate formations resembling frozen waterfalls, draperies that hang like delicate tapestries, and colossal rooms that echo with a profound sense of history.
Whether you want to take a guided tour of the caverns, hike on the scenic trails, or try some gemstone mining, there is something for everyone at this park. In this guide, we will provide you with all the information you need to plan your visit to Cathedral Caverns State Park, including the history of the caverns, the various trails and activities available, and tips for visitors on how to make the most of their experience.
The Geological Wonders of Cathedral Caverns
The world's most beautiful geological structures can be found in Cathedral Caverns State Park. Water erosion and the gradual deposition of water containing minerals resulted in the formation of the caverns over millions of years. The beautiful underground environment that has been produced by this natural process is still changing today.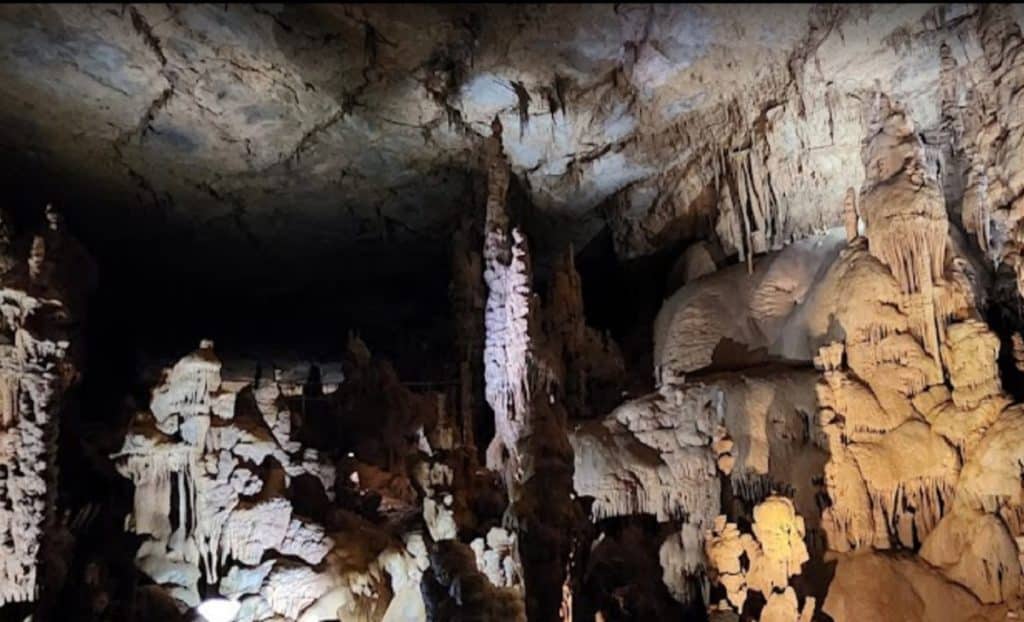 The highlight of Cathedral Caverns is undoubtedly its towering stalagmites and stalactites. Stalagmites are formed from mineral deposits that build up on the cavern floor, while stalactites hang from the ceiling, formed by the slow dripping of mineral-rich water. The result is a mesmerizing display of nature's artistic prowess, with formations that reach heights of over 45 feet.
But it's not just the stalagmites and stalactites that make Cathedral Caverns so special. The walls of the caverns are adorned with an array of colorful geological formations, including flowstone, draperies, and columns. Flowstone, also known as cave bacon, resembles frozen waterfalls, while draperies hang like delicate tapestries, adding a touch of elegance to the underground landscape. Columns, on the other hand, are formed when stalactites and stalagmites meet, creating massive pillars that seem to defy gravity.
Formation and History of Cathedral Caverns
The formation of Cathedral Caverns began millions of years ago, during the Paleozoic Era. At that time, the area that is now known as Alabama was covered by a shallow sea. Over time, the sea retreated, leaving behind limestone deposits. These deposits were then subjected to the forces of erosion and the slow dissolution of water, resulting in the creation of the caverns.
Cathedral Caverns was originally known as Bats Cave, due to the large number of bats that inhabited it. Native Americans were the ones who initially discovered the cave, leaving behind relics that date back to 7000 BCE. The area around the cave was settled by the Kennamer family in the 1800s, and became known as Kennamers Cove. After their farmhouse was destroyed by Union troops during the Civil War, the Kennamer family spent a considerable amount of time residing in the cave.
The cave was opened to the public by Jacob "Jay" Gurley in 1955, who renamed it Cathedral Caverns because of its cathedral-like appearance. He developed the cave as a tourist attraction, adding concrete walkways, lighting, and a gift shop.
The cave was sold at auction in 1975 to Tom German, who continued to operate it until 1987, when he sold it to the State of Alabama. The state closed the cave for renovations and improvements, and reopened it as a state park in 2000. The park was designated as a National Natural Landmark in 1972, recognizing its outstanding natural features and scientific value. Since then, they have become a popular tourist attraction, drawing visitors from all over the world.
Exploring the Different Caves and Formations in Cathedral Caverns
Several caverns with distinctive characteristics and formations can be found in Cathedral Caverns State Park. Of course, the Cathedral Cave, the largest cave in the park, is the main draw.
The Big Room
The entrance to the cave lies in this room, which is also its primary chamber. It is one of the biggest cave rooms in the world, measuring around 792 feet long and 200 feet broad. Its 126-foot-wide mouth is surrounded by a lofty roof that soars to a height of 25 feet. Stunning formations like stalactites, stalagmites, columns, flowstones, draperies, and helictites may be seen throughout The Big Room. The famed "Goliath" stalagmite, which is 45 feet tall and one of the most magnificent structures in this enormous cavern, is just one of its iconic features.
The New Cave
This is a lower level of the cave that was uncovered by cavers in 1963 while they were investigating a sinkhole close to the Big Room's entrance. A little passageway that opens up into a series of descending chambers provides entrance to the New Cave. Nearly every type of known cave structure may be found in The New Cave, including an underground lake with crystal-clear water.
The Mystery River
This underground stream carves up a number of ponds and waterfalls as it winds through the cave. Rainwater pours through the limestone rock above the cave and nourishes the Mystery River. Crayfish, salamanders, and blind cave fish are among the aquatic life types that can be found in the clear, chilly water.
Unique Features and Highlights of Cathedral Caverns
One of the unique features of Cathedral Caverns is the "Frozen Waterfall." This stunning formation resembles a cascading waterfall frozen in time, with delicate mineral deposits creating the illusion of flowing water. The Frozen Waterfall is a popular spot for photographers, as it offers a truly breathtaking backdrop for capturing the beauty of the caverns.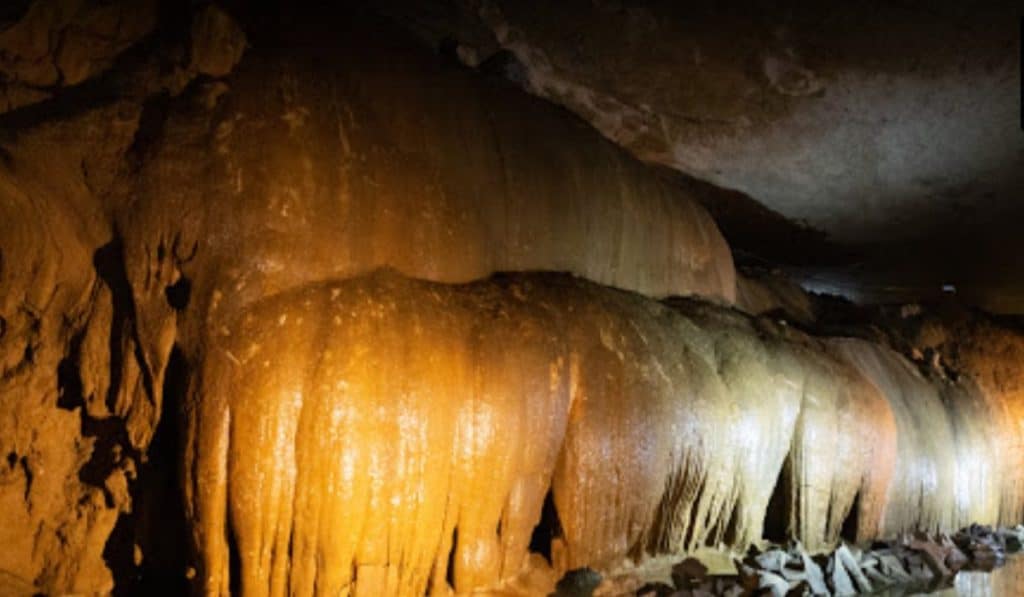 "Caveman's Home" is another attraction of Cathedral Caverns. The name of this area of the caverns comes from a huge stalagmite that resembles an early human form. The Caveman's Home serves as a reminder of the fascinating past of the caves and the individuals who have explored them over the ages.
Trails and Activities
Cathedral Caverns State Park offers a variety of trails and activities for visitors of all ages and interests. Here are some of the main attractions you can enjoy at the park:
Cave Tour
The highlight of any visit to Cathedral Caverns State Park is taking a guided tour of the caverns. The tour lasts about 90 minutes and covers about 3,500 feet of concrete walkways inside the cave. The tour is wheelchair-accessible and suitable for children. Along the way, you will see amazing formations such as Goliath (a massive stalagmite measuring 45 feet tall and 243 feet in circumference), a frozen waterfall (a large flowstone formation), an improbable stalagmite (a thin column rising at a 45-degree angle from a rock formation), and many more. You will also learn about the history and geology of the cave from your knowledgeable guide. The tour costs $19 for adults, $9 for children (ages 5-12), and free for children under 5. Reservations are recommended, especially during peak seasons. You can make reservations online or by calling (256) 728-8193.
Gemstone Mining
If you want to try your luck at finding some precious stones, you can try gemstone mining at Cathedral Caverns State Park. You can purchase a bag or bucket of mining dirt (seeded with either rough cut gemstones or fossils) at the gift shop, and then sift through running water in custom-made flumes. You can keep whatever you find, and use the gemstone identification display to learn more about your treasures. Gemstone mining is fun for all ages, but especially popular with younger visitors. The prices range from $6 to $30 depending on the size of your bag or bucket.
Hiking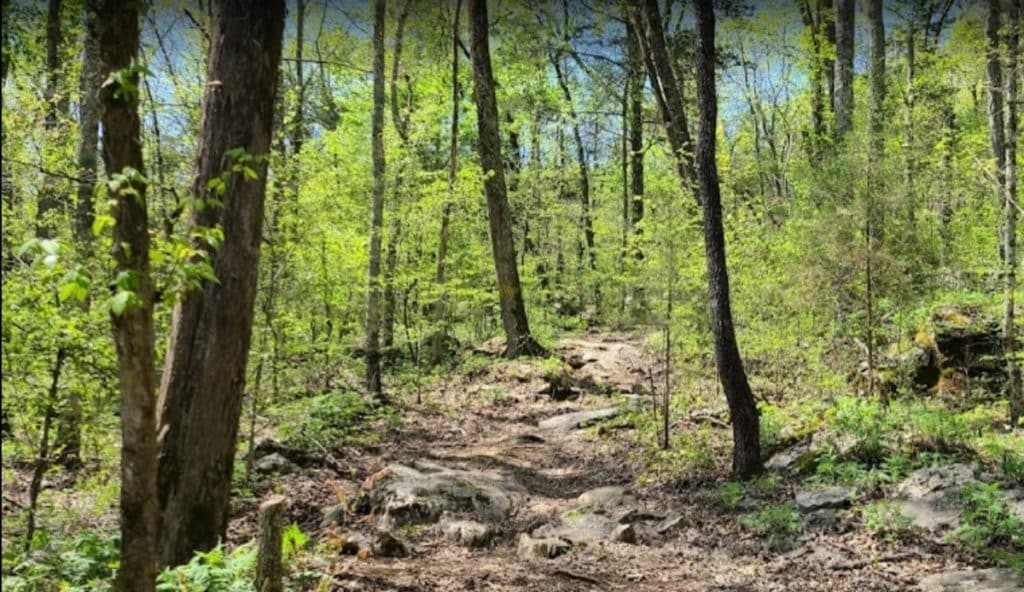 You can enjoy Kennamers Cove's unspoiled splendor on one of the several hiking routes in Cathedral Caverns State Park. From easy to moderate, the paths range in length and difficulty. These are a few of the trails:
Cathedral Caverns Trail
This is a 1-mile loop trail that starts at the parking lot and leads to the entrance of the caverns. It is an easy trail that offers views of the surrounding hills and woods.
Kennamer Farm Trail
This is a 1.6-mile loop trail that starts near the picnic pavilion and follows an old farm road through fields and forests. It is a moderate trail that passes by some historic structures such as an old barn and a spring house.
Backcountry Trail
A 3.5-mile circle route leading through the park's backcountry begins close to the campground. It is a moderate-to-challenging trek that climbs hills, crosses streams, and provides breathtaking views of the valley. For hikers who desire to spend the night in the outdoors, there is also a rustic campsite along this trail.
Camping in Cathedral Cavnerns State Park
Cathedral Caverns State Park has a campground that offers improved and primitive campsites for visitors who want to stay overnight at the park. The improved campsites have water and electric hookups, fire rings, picnic tables, and access to a bathhouse. The primitive campsites have fire rings and picnic tables, but no water or electric hookups. The backcountry campsite is located along the Backcountry Trail and has a fire ring and a picnic table, but no water or electric hookups. The campground also has a dump station and a playground. The camping fees range from $15 to $25 per night depending on the type of site. Reservations can be made online or by calling (256) 728-8193.
Tips for Visiting Cathedral Caverns State Park
To make the most of your visit to Cathedral Caverns State Park, here are some tips and recommendations:
The park is open daily from 9 a.m. to 5:30 p.m., except on Thanksgiving, Christmas, and New Year's Day. The cave tours are scheduled throughout the day, with the last tour starting at 4 p.m. Check the park's website or Facebook page for updates on cave tour times and availability.
The park is located about 40 minutes east of Huntsville, Alabama, and about 2 hours south of Nashville, Tennessee. The address is 637 Cave Road, Woodville, AL 35776.
The cave temperature is a constant 60 degrees Fahrenheit year-round, so dress accordingly. You may want to bring a jacket or sweater for the cave tour, and wear comfortable shoes with good traction. You may also want to bring a flashlight or headlamp to see better in some of the darker areas of the cave.
The cave tour is suitable for most visitors, but it does involve some walking, bending, and climbing stairs. If you have any physical limitations or medical conditions that may affect your ability to participate in the tour, please consult with your doctor before visiting the park. If you have any questions or concerns about the tour, please contact the park staff before booking your reservation.
Neither the cave nor any park structures may be occupied by pets. Pets are permitted in the campground and on the trails as long as their owners pick up after them and keep them on a leash. Pets should never be left unsupervised in a car or at a campsite.
There is a gift shop in the park where you can buy souvenirs, snacks, drinks, and equipment for mining gemstones. Restrooms and vending machines are also available in the gift shop. There aren't any eateries or coffee shops in the park, but guests can use two sizable picnic pavilions that are close to the welcome center. Bring your own food and beverages if you like, or shop for some in Grant or Woodville, two local communities.
Photography Opportunities in Cathedral Caverns
Photography is allowed inside the cave, but flash photography is not permitted. Please be respectful of other visitors and do not use flash or tripods during the tour. You may also want to bring extra batteries or a portable charger for your camera or phone, as they may drain faster in the cave environment.
Cathedral Caverns State Park offers endless opportunities for photography enthusiasts. The unique formations, vibrant colors, and dramatic lighting create a playground for capturing stunning images.
Whether you're a professional photographer or simply enjoy taking pictures, the caverns provide a wealth of subject matter to explore. Experiment with different angles and compositions to capture the grandeur and intricate details of the geological formations. Don't forget to adjust your camera settings for low light conditions to ensure sharp and well-exposed images.
Nearby Attractions and Activities around Cathedral Caverns State Park
Cathedral Caverns State Park is located in the heart of a region known for its natural beauty and outdoor recreational opportunities. It is close to several other attractions in north Alabama, such as Lake Guntersville State Park, Monte Sano State Park, Desoto State Park, Buck's Pocket State Park, Scottsboro, Huntsville, and the Marshall Space Flight Center.
Lake Guntersville State Park offers a range of activities such as hiking, fishing, and boating. The park is also home to an abundance of wildlife, making it a great spot for birdwatching and nature photography.
For history enthusiasts, the town of Huntsville is just a short drive away and offers a variety of museums and historical sites. The U.S. Space & Rocket Center, the Huntsville Museum of Art, and the Huntsville Botanical Garden are just a few of the highlights worth exploring.
You can combine your visit to Cathedral Caverns State Park with these other destinations for a fun-filled trip.
Preservation and Conservation Efforts at Cathedral Caverns State Park
Preserving the natural beauty and ecological integrity of Cathedral Caverns State Park is a top priority. The park is managed by the Alabama Department of Conservation and Natural Resources, which is dedicated to protecting and preserving the state's natural resources.
To ensure the sustainability of the caverns, certain areas are off-limits to visitors in order to minimize human impact and preserve delicate formations. Additionally, the park has implemented measures to monitor and manage water quality, as well as to protect the bat population that calls the caverns home.
Conclusion: The Awe-Inspiring Beauty of Cathedral Caverns
Cathedral Caverns State Park is a hidden gem that showcases the stunning beauty and geological wonders that lie beneath the surface. If you are in Alabama and searching for the nearest cave to me, then this is the place to visit. From its towering stalagmites and intricate passageways to its vibrant colors and unique formations, this underground paradise is a testament to the raw power and artistry of nature. Cathedral Caverns State Park is a wonderful place to experience nature's wonders and learn about history and science. Whether you are looking for a family-friendly outing, a romantic getaway, or an adventurous excursion, you will find something to enjoy at this park. We hope this guide has helped you plan your visit to Cathedral Caverns State Park, and we hope you have a great time exploring this amazing place!