2 Snorkeling/Scuba/Kayaking
This could easily be numbers two, three AND four, but I bunched them all as one – two – whatever.
If you look at a satellite map of Rarotonga, you will see the island, some pretty blue water just off the shoreline and then deep blue water outside that.  The pretty blue water is within a reef, about a 100 meters worth of lagoon.  This means that the water does not get very deep and offers wave protection within the lagoon (bottom line – keeps the big waves and sharks out).  The water is smooth for kayaking because there is no fighting the surf to get out to the calmer water.  We pulled the kayak out and it was remarkable smooth sailing (even in a sudden rain squall).  The kayaks glide right over all the coral (even though it doesn't look like it will).  We did have to be careful with the oars to make sure we didn't hit any of the live coral.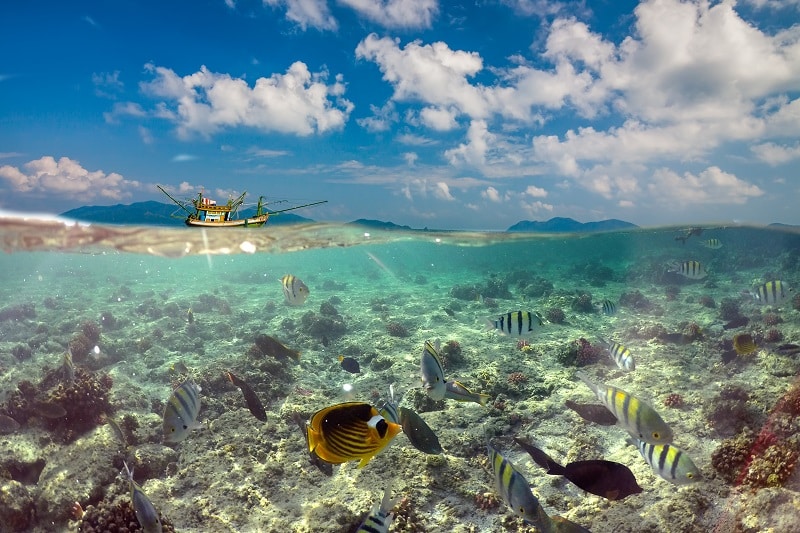 Snorkeling was a joy because you didn't even need to put any gear on to see the fish!  When we stood in three feet of water off the shore, we saw Picasso triggers, convict tangs, puffer fish and many other forgot-the-named species right from where we stood.  We saw things in the Cook Islands we've never seen anywhere else in our travels.  We stayed at the Palm Grove and had a great spot right outside the door.  Fruits of Rarotonga is another popular snorkel spot.  Beaches can seem hard to find because they aren't really labeled.  Literally, the cafe "Fruits of Rarotonga" is across the street from the "parking lot" for the beach.  There is a bus stop there too.  Muri Beach was popular, but we thought too crowded.  Check the map or Jason's guide for the two locations where snorkeling is not recommended.  Other than that, anywhere seemed good to us.