3. Pinnacles National Park, California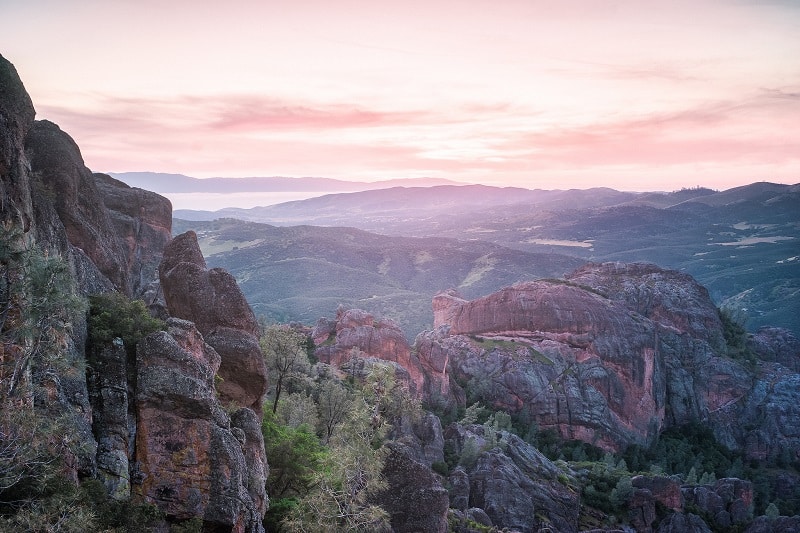 This is the newest park in the US after being turned from a monument to a national park in 2003. Very few people know about it and hence it received very few visitors, which is a good reason for you to do it. It preserves ancient volcanic remnants and the fact that it is small in size means you can get to experience all of it in a day. It has beautiful trails that range from easy to treacherous, awing balanced boulders, bat inhabited caves and past serrated spires. If you go between March and May, then the experience will be intensified by the poppies and purple bush lupine than burst into bloom.
4. Channel Islands, California

Lying 11 miles from the Southern California coast, Channel Islands is an undeveloped eight island chain that very few people go to. Five of the islands comprise of the national park and they are a magnificent beauty of spindly spires, grassy hills and craggy arches. The things that make this park stand out from the rest are the unique and endemic animal and plant species because it is the only place in the whole world you will get to see the island fox, the island deer mouse or the yellow-blooming coreopsis. For this reason, the Channel Islands earned the nickname North America Galapagos. There are also over 30 species of sea animals here including sea lions, whales and elephant seals. Actually, the largest aggregation of blue whales convenes in this park every summer. You will be spoilt for choice when it comes to activities because you can kayak through the sea caves, hike, camp, dive etc.