Are you ready to escape to paradise? Look no further than the stunning country of Costa Rica, where warm turquoise waters, lush jungles, and vibrant culture await. What better way to experience the beauty of this Central American gem than by exploring its top beach towns? Whether you're seeking a serene retreat or a lively adventure, beach towns in Costa Rica have something for everyone.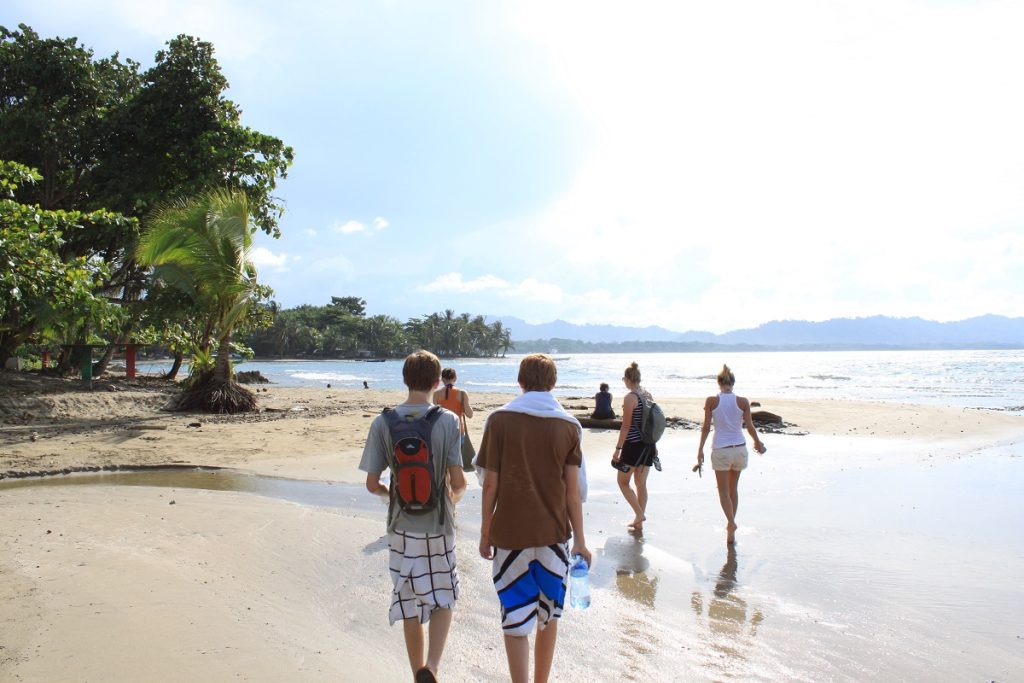 With over 763 miles of coastline on both the Pacific and Caribbean sides, Costa Rica is a beach lover's heaven. There is a beach town for you in this lovely country, whether you're interested in surfing, snorkelling, wildlife, nightlife, or just resting. The top beach towns in Costa Rica are listed here for your next vacation.
Tamarindo – A surfer's paradise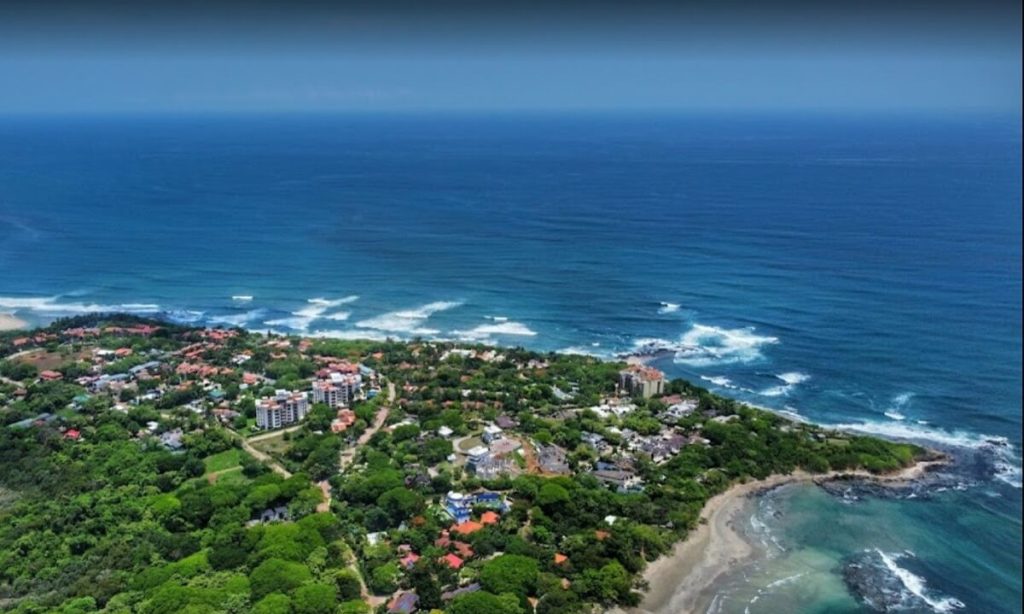 On the North Pacific coast of Costa Rica, the beach town of Tamarindo is one of the busiest and most developed. It boasts a lengthy white-sand beach with great surfing conditions for both amateurs and professionals, hence it is popularly known as surfer's paradise.
This laid back beach town is known for its consistent waves and warm waters, making it the perfect destination for surfers of all levels. But surfing isn't the only activity Tamarindo has to offer. You can also snorkel, swim, and paddleboard in the clear waters, or take a sunset sail and watch the sky turn pink and orange over the ocean.
But Tamarindo isn't all about the beach. Take a stroll through the town and you'll find a variety of restaurants, bars, and shops. If you're looking for a bit of adventure excitement, there are lots of tours and excursions available, from zip-lining through the jungle to horseback riding on the beach.
Tamarindo Beach in Costa Rica is an excellent starting point to see other local sites like the Rincon de la Vieja Volcano, Palo Verde National Park, and Las Baulas National Marine Park. It also has staying options for every budget, from modest hostels to luxurious resorts. Tamarindo is regarded as one of Costa Rica's top beach cities, and it's simple to understand why given its vibrant nightlife and friendly locals.
Manuel Antonio – A Beach Town with National Park Attractions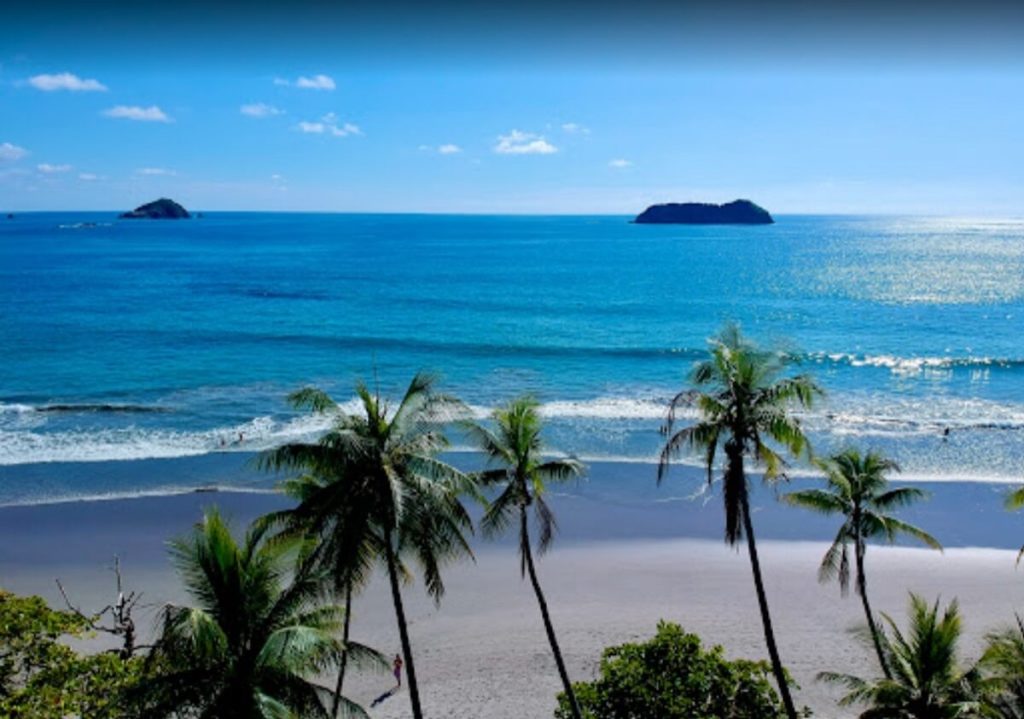 If you're looking for a beach town with natural beauty and wildlife, look no further than Manuel Antonio. Located On the Central Pacific coast, Manuel Antonio is a charming beach town that is well known for its national parks, which blends gorgeous beaches, tropical vegetation, and an abundance of wildlife. You may explore the trails by hiking and seeing monkeys, sloths, iguanas, and a variety of birds, or you can unwind on the white sand beaches and go swimming in the crystal clear water.
But the park isn't the only attraction in Manuel Antonio. The town itself has a laid back vibe, with plenty of restaurants and cafes to enjoy. Of course, there are beaches as well. Playa Espadilla is the main beach in town, and it's known for its calm waters and soft sand. But if you're looking for a quieter spot, there are plenty of hidden coves and beaches to explore.
Other adventurous pursuits available in Manuel Antonio include zip-lining, rafting, canyoning, and parasailing. There are lots of places to stay in Manuel Antonio, from inexpensive hostels to opulent resorts, as well as eateries serving delectable regional and international cuisine. With stunning natural beauty and national park attractions, it's no wonder why Manuel Antonio is one of the top beach towns in Costa Rica.
Puerto Viejo – A Caribbean vibe in Costa Rica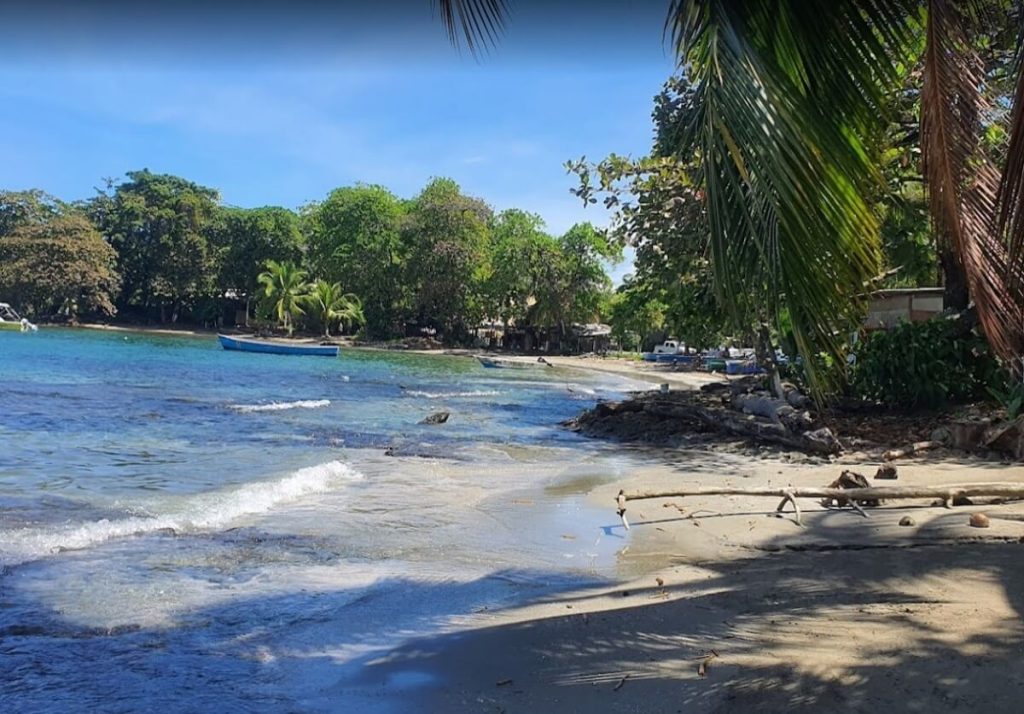 Located on the Caribbean coast of Costa Rica, Puerto Viejo is a beach town with a unique vibe. The town has a strong Afro-Caribbean influence, with a laid-back atmosphere and a variety of delicious Caribbean inspired cuisine. Puerto Viejo is home to some of Costa Rica's most beautiful beaches, including Playa Cocles and Playa Chiquita.
In the adjacent Cahuita National Park, you may go snorkelling, surfing, or hiking if you're up for a little action. There are many different types of beaches in Puerto Viejo, from those with black sand to those with golden sand and coral reefs. You may either ride a bike along the coast to find more small towns and beaches or go surfing on the well-known Salsa Brava wave.
Puerto Viejo features a busy and varied nightlife with dance clubs, reggae pubs, and live music. You can enjoy this town's natural beauty and cultural richness, as well as its laid back and pleasant environment. Accommodations in Puerto Viejo range from budget-friendly hostels to eco-friendly lodges and villas. It is not surprising that Puerto Viejo is among the best costa rican beach towns given its distinctive Caribbean atmosphere and superb beaches.
Jaco – A Party Town with Stunning Beaches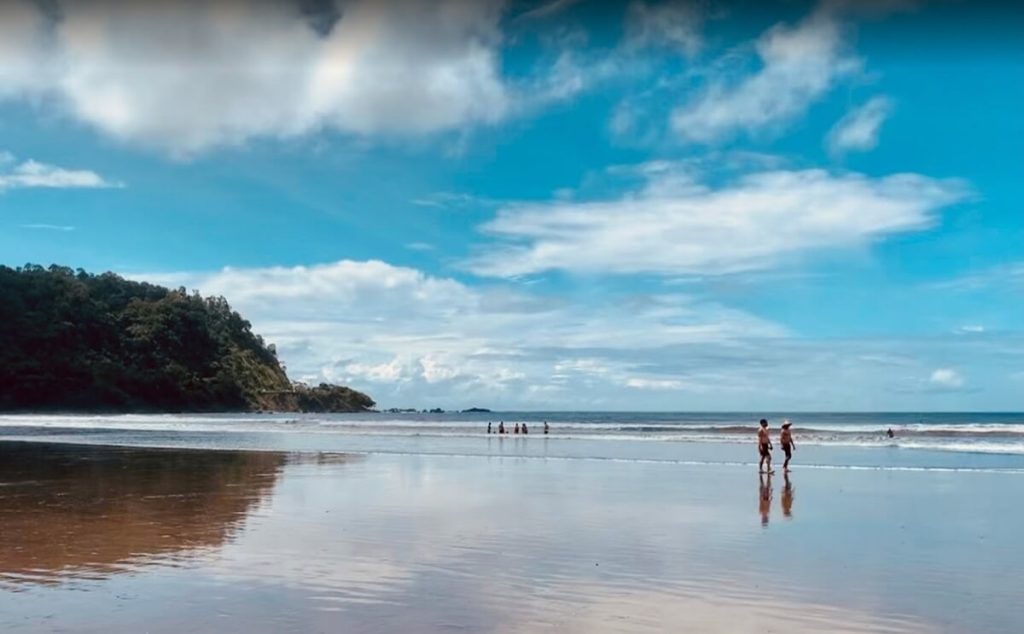 On the Central Pacific coast, the vibrant beach town of Jaco is well liked by partygoers, surfers, and outdoor enthusiasts. This town is known for its energetic nightlife and stunning beaches. During the day, you can surf, swim, or sunbathe on one of the town's many beaches. At night, you can hit up one of the bars or nightclubs for a night of dancing and fun. Every taste is catered for by the variety of eateries, pubs and shopping.
But Jaco isn't just a party town. It's also home to a variety of outdoor activities, from zip-lining and ATV tours to fishing and kayaking. If you're looking for a bit of culture, you can visit the nearby Carara National Park or take a tour of a local coffee plantation.
Other sights, such as Manuel Antonio is also accessible from Jaco. On the black sand beach, you can go surfing or participate in other adventurous pursuits like bungee jumping, crocodile safaris, and ATV rides. Jaco offers a variety of lodging choices, including hostels, villas, and spas for additional amusement and relaxation. With its lively party scene and stunning beaches, it's no wonder why Jaco is one of the best beach town in costa rica.
Playa Flamingo – A Luxurious Beach Town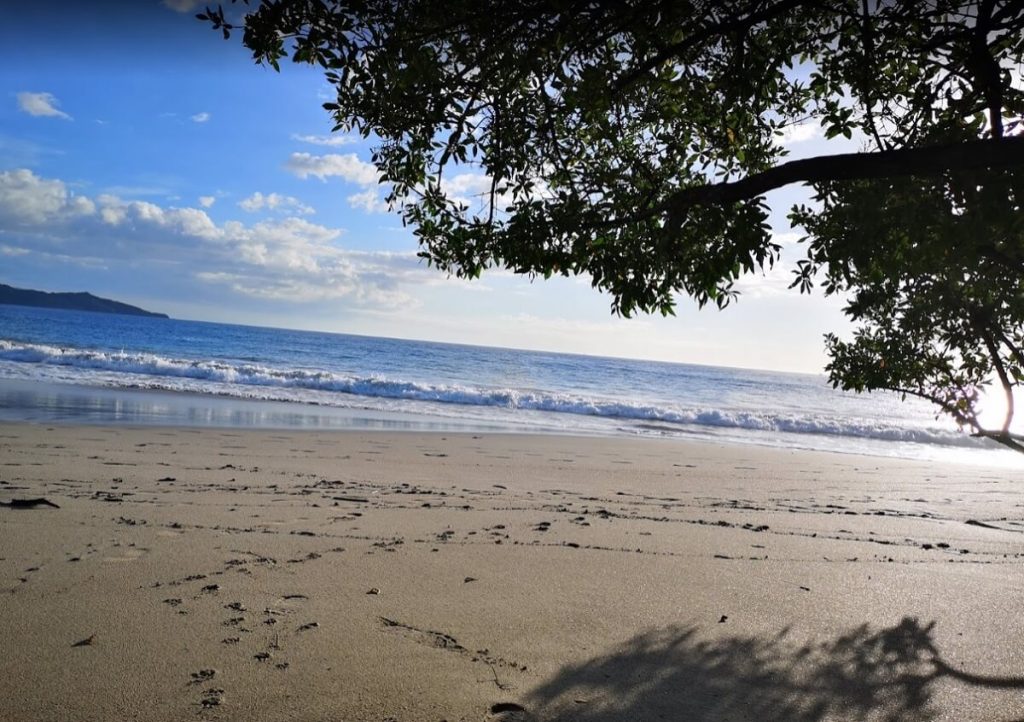 If you're looking for a beach town with a touch of luxury, Playa Flamingo is the place to go. Located on the Northern Pacific Coast, this town is known for its upscale resorts, stunning beaches, and crystal clear waters. But Playa Flamingo isn't just about luxury, it is also home to a variety of outdoor activities, from deep-sea fishing and scuba diving to horseback riding and zip-lining. If you're looking for a bit of culture, you can visit the nearby Las Baulas National Marine Park or take a tour of a local coffee plantation.
Playa Flamingo provides a wide range of aquatic sports, including diving, sailing, snorkelling, and fishing. From your balcony or swimming pool, you can take in the breathtaking views of the ocean and mountains.
Conchal, Brasilito, and Potrero are some of the gorgeous beaches that are adjacent to Playa Flamingo. For additional wildlife experiences, head to Guanacaste National Park, Las Baulas National Marine Park, or the Las Catalinas Islands. There are many dining options at Flamingo, ranging from casual to fine dining, including fusion and international cuisine.
Playa Flamingo offers a variety of lodging options, including exclusive resorts, private villas, and holiday rentals. Playa Flamingo is among the costa rica best beach towns, and it's easy to see why with its gorgeous beaches and elegant atmosphere.
Montezuma – Beach Town with Natural Beauty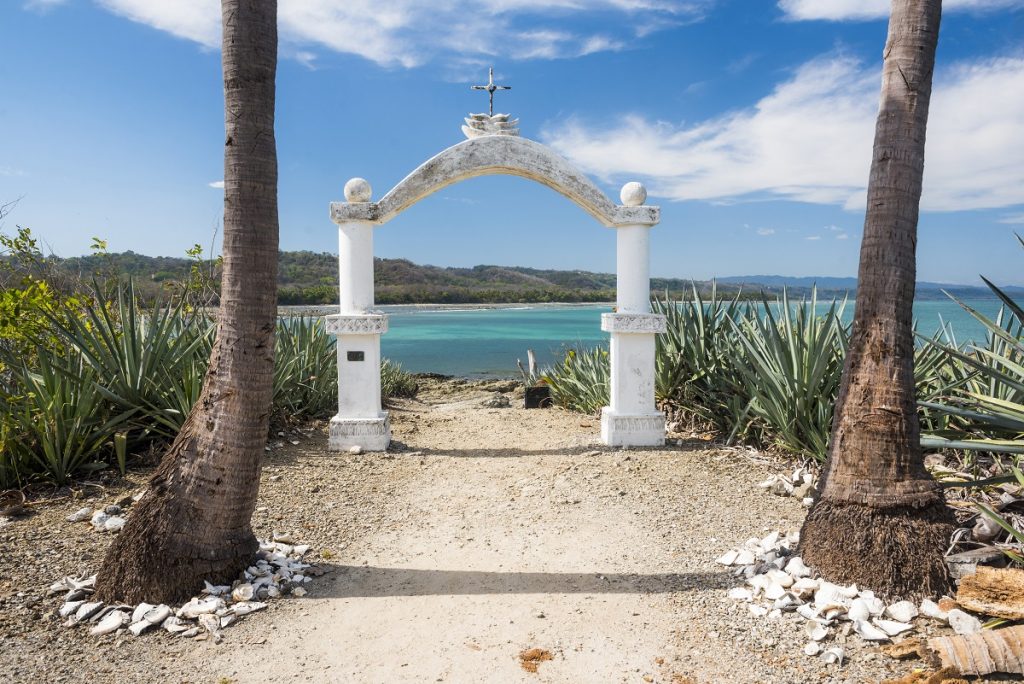 You might wish to consider Montezuma if you're seeking a tranquil and beautiful beach getaway in Costa Rica. This tiny beach town, which is situated on the southernmost point of the Nicoya Peninsula, has a distinctive artistic and bohemian appeal that draws lots of tourists.
Both beach and nature lovers will find much to enjoy at Montezuma. The town's long, sandy beach is accessible to you, and you can also visit the tidal pools and secret coves that dot the coastline. In the crystal-clear sea, you can also kayak, paddle board, surf, snorkel, or go on a boat ride to Tortuga Island, where you may view dolphins, turtles, and a variety of fish.
One of the primary attractions of Montezuma is the famed Montezuma Waterfalls, a series of three cascades that plummet into natural pools. You may hike to the waterfalls from the town centre or take a taxi or horseback trip. The trek is steep and treacherous, so make sure you wear suitable shoes and carry a drink. Once you reach the waterfalls, you can swim in the soothing water or jump from the rocks if you are feeling adventurous.
Another location to visit in Montezuma is the Cabo Blanco Wildlife Refuge, the first national park established in Costa Rica. This park preserves a huge area of tropical dry forest and maritime environments and is home to various creatures, including monkeys, sloths, coatis, deer, and birds. You can hike through the trails and enjoy the beauty, or rest on the private beach at the end of the park.
As a reflection of its history and inhabitants, Montezuma has a vibrant and varied culture. In the 1980s, hippies, artists, and alternative thinkers began to flock to the town, which had previously been a sleepy fishing village. In the street art, handmade goods, organic eateries, yoga studios, and live music that permeate the town today, you can still sense the effect of this bohemian attitude. You can also sample the regional cuisine, which draws inspiration from Afro-Caribbean tastes and ingredients.
Montezuma is an excellent destination for those seeking a relaxed and pleasant atmosphere surrounded by natural beauty and artistic expression. It is one of the best Costa Rica beach towns for those looking to escape the throng and live the pura vida lifestyle.
Nosara – A Tranquil Beach Town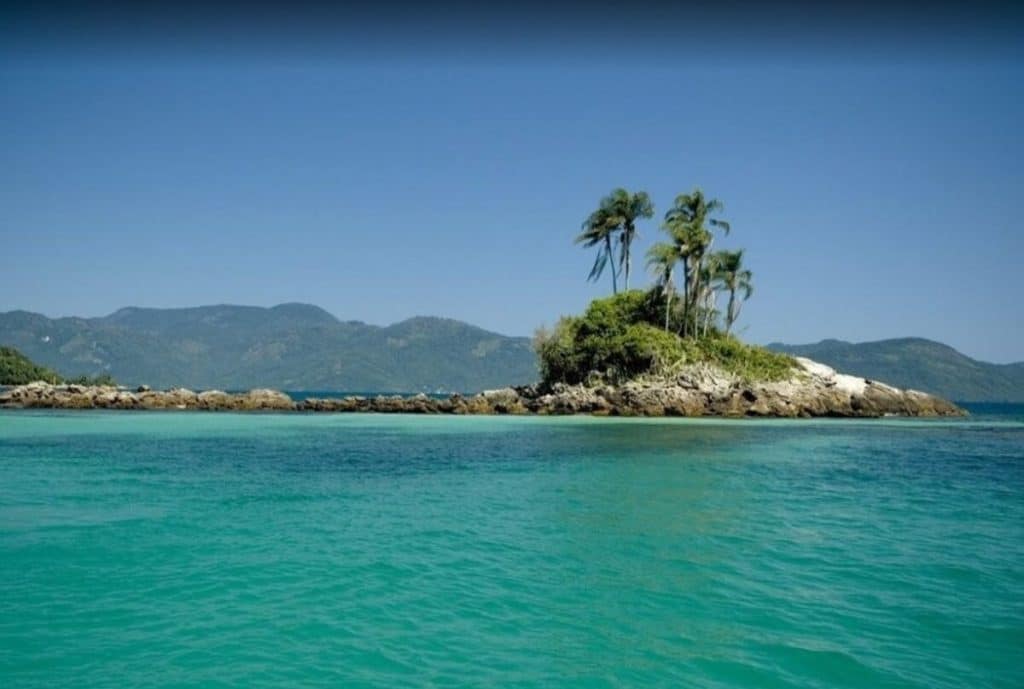 One of the world's Blue Zones, Nosara is a little coastal town on the Nicoya Peninsula where people live longer and are in better health. Along with its natural beauty and wildlife, Nosara is also recognised for its wellness and surfing lifestyle. The top things to do in Nosara, Costa Rica, are listed below.
With reliable waves all year long and a 7-kilometre-long sandy beach, Nosara is a surfer's paradise. Playa Guiones is the primary surfing location and offers waves for all skill levels, as well as surf shops that rent equipment and offer training. Playa Pelada, a more sedate beach with fewer waves and rocky outcroppings, also offers surfing opportunities. Go to Playa Ostional to catch bigger, quicker waves if you want to challenge yourself.
With numerous studios and retreats that provide sessions for various levels and genres, Nosara is also a centre for yoga. Feel the advantages of stretching, breathing, and meditation by doing yoga in the morning or evening while looking out over the forest or the ocean. Bodhi Tree Yoga Resort, Nosara Yoga Institute, Harmony Hotel, and Nalu Nosara are a few of the top spots in Nosara to practise yoga.
There are several opportunities to explore the natural surroundings and fauna around Nosara. The Nosara Biological Reserve, a private forest that preserves several creatures like monkeys, coatis, armadillos, and birds, has hiking paths you can take. Along the Nosara River and the mangroves, you may kayak or paddle board and witness crocodiles, turtles, herons, and kingfishers. Another option is to go to the Ostional Wildlife Refuge to witness the amazing spectacle of sea turtles breeding and hatching on the beach.
Nosara is an excellent area to try your luck if you enjoy fishing. Depending on the time of year and your preferences, you can join a fishing charter and fish inshore or offshore. Fish including tuna, mahi-mahi, snapper, marlin, roosterfish, and other species are catchable. Along the journey, you might see some dolphins or whales while taking in the view of the shore and the islands.
You may look after your body and mind in a number of ways at Nosara. One of the many wellness centres in the area offers massages and spa services for you to indulge in. Acupuncture, reiki, aromatherapy, or sound healing are a few other alternative therapies you can explore. The nearby eateries and cafés that sell fresh and organic cuisine allow you to refuel with wholesome and delectable organic meals as well.
Nosara is a destination where you can take advantage of a relaxed and welcoming ambiance while being surrounded by stunning natural scenery and artistic expression. If you want to get away from the crowds and live the pura vida lifestyle, visit this Costa Rica beach town.
Playas del Coco – A Friendly Beach Town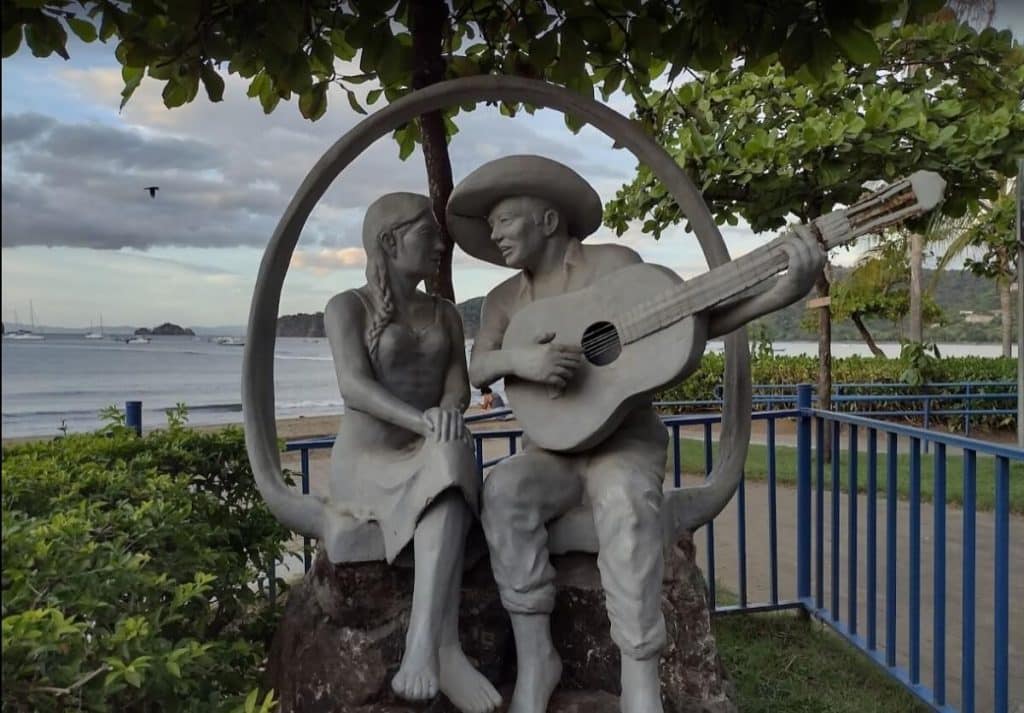 In Costa Rica's Guanacaste province, Playas del Coco is a thriving beach city. It is located on the North Pacific coast and about 30 minutes from the Liberia International Airport. Visit Playas del Coco if you want to enjoy yourself in the sand, sea, and sun.
The sandy, long beach in Playas del Coco is where a number of attractions are located. You can swim, sunbathe, or watch the sun set on the beach. Additionally, you can partake in water sports including kayaking, fishing, surfing, and diving. You may also take a boat trip to one of the nearby islands, like the Catalinas or Bat Islands, to observe dolphins, whales, turtles, and sharks.
A good starting point for exploring further Guanacaste attractions is Playas del Coco. Some of the adjacent beaches, like Playa Hermosa, Playa Ocotal, or Playa Panama, are easily accessible. Several national parks and volcanoes, including Santa Rosa National Park, Rincon de la Vieja National Park, and Arenal Volcano, are also accessible.
There are many different lodging options in Playas del Coco, ranging from cheap hostels to opulent condos, as well as restaurants and pubs serving both local and foreign food. At the little shops and marketplaces, you may also buy groceries, crafts, and souvenirs. You may enjoy the vibrant nightlife scene at night, which features live music, karaoke, casinos, and discos.
The gorgeous and welcoming surroundings of Playas del Coco are the perfect spot to unwind and have fun. Del Coco is one of the Costa Rican beach towns for people looking to lead a pura vida lifestyle.
Dominical – A Small Surf Town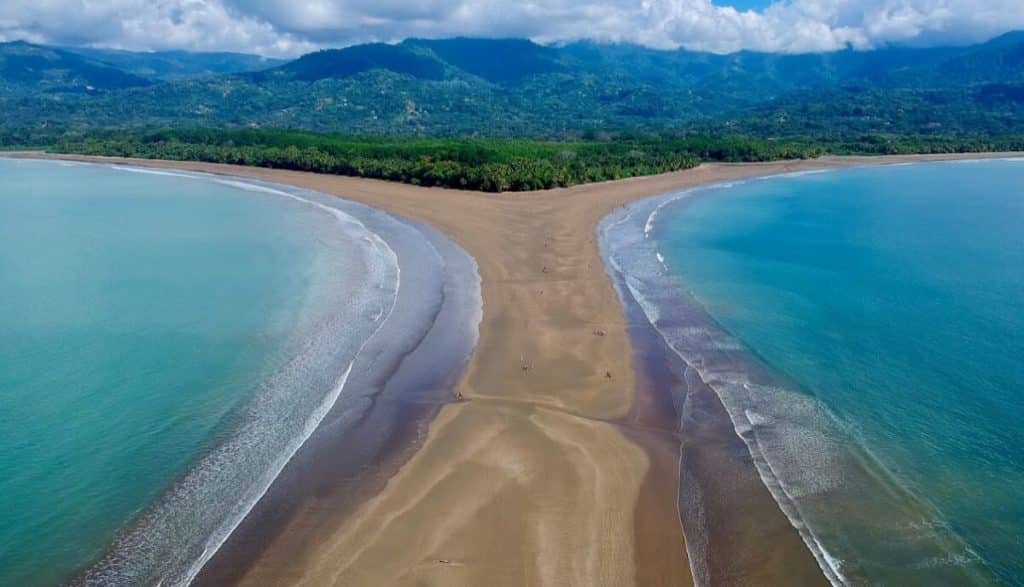 A beachfront town in Costa Rica's Osa region, Dominical lies 45 kilometres south of Quepos and the well-known Manuel Antonio National Park. Large, year-round waves and a laid-back environment make it famous. For surfers, wildlife lovers, and anyone seeking a tranquil and genuine Costa Rican experience, Dominical is the ideal vacation spot.
Some of the best surfing conditions in Costa Rica and Central America can be found on Dominical's 4-kilometre-long beach. Although there are surf schools and beginner-friendly beaches nearby, the waves are best for intermediate to advanced surfers. Enjoy the constant surge and the warm water by renting a board or bringing your own. Additionally, there are numerous hotels, hostels, and cabin rentals in the area. You can also camp on the beach.
However, Dominical is not just about surfing. In addition, it is surrounded by wildlife, waterfalls, and lush jungles. The breathtaking Nauyaca Waterfalls, a trio of cascades that plunge into natural pools, are reachable by a short walk. If you want to witness whales, dolphins, turtles, and other marine life, you may also go to Marino Ballena National Park. One of the most biodiverse locations on earth, Corcovado National Park, is another option that you may visit. Here, you can see tapirs, monkeys, sloths, and other animals.
Dominical also boasts a lively and hospitable culture that reflects its past and its inhabitants. The town was formerly a sleepy fishing community, but in the 1980s it gained popularity as a hangout for hippies, artists, and alternative thinkers. Street art, handmade goods, organic eateries, yoga studios, and live music still give off a bohemian vibe in today's world. You may also sample the regional food, which incorporates ingredients and flavours from Costa Rica.
Dominical is a destination where you can enjoy yourself and unwind in a stunning natural setting. If you wish to live the pura vida lifestyle, this is one of Costa Rica's top beach towns.
How to get around Costa Rica Beach Towns
Beach towns in Costa Rica are quite simple to navigate, but there are a few things to be aware of. Although many of the towns are small enough to stroll through, you'll need to hire a car or use a cab if you want to travel further away.
The roads in Costa Rica can be rough and unpaved, so if you're intending to rent a car, think about getting one with enough clearance. If you don't feel comfortable driving a car in an unfamiliar country, you can hire a driver or take a shuttle.
Best time to visit Beach Towns in Costa Rica
Depending on what you're searching for, there isn't a perfect time to explore the beach towns of Costa Rica. The best time to travel is during the dry season, which lasts from December to April and features clear skies and comfortable temperatures. However, as this is also the busiest period of the year, you may anticipate higher costs and larger crowds.
The rainy season, which lasts from May to November, can be an excellent time to come if you want a more sedate atmosphere. The crowds are smaller, and the rainforest is lush and green. Just be ready for sporadic showers of rain and humidity.
Conclusion
From surfers and partygoers to nature lovers and luxury seekers, Costa Rica's beach towns have something to offer every kind of tourist. You're sure to find it in one of these beautiful places, whether you're searching for a serene escape or a thrilling adventure. Prepare to flee to Costa Rica's paradise by gathering your belongings, sunscreen, and bags.